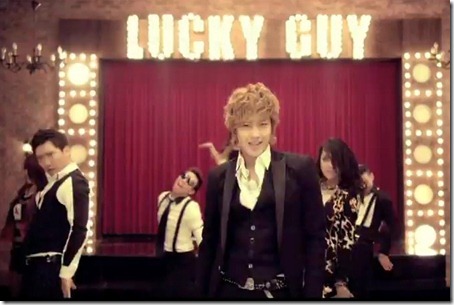 Popular Korean singer Kim Hyun Joong released his debut double-A Japanese single "KISS KISS/Lucky Guy" on January 25th. A new promo video with clips from both music videos for "KISS KISS" and "Lucky Guy" via the Universal Music Japan Youtube site. Release details and video follow,

Kim Hyun Joong's Japanese debut single "KISS KISS / Lucky Guy" comes in a Limited type-A CD+DVD, a Limited type-B CD+DVD, and a Regular CD editions. The Limited editions have different coupling track and bonus DVD, the Regular edition track list matches the type-B. Most songs are their new Japanese versions except as noted.
To promote his debut in Japan Kim Hyun Joong will be on tonight's MUSIC STATION along with ayaka and SKE48.
Check out the promo video for "Lucky Guy" below the release details.
Kim Hyun Joong – "KISS KISS / Lucky Guy" – January 25th 2012
Limited type-A [CD+DVD] (¥1890)


Limited type-B [CD+DVD] (¥1890)


[CD]
1. KISS KISS
2. Lucky Guy
3. U
4. KISS KISS (off vocal)
5. Lucky Guy (off vocal)
6. U (off vocal)
[DVD]
1. KISS KISS (music video – Japanese)
2. KISS KISS (music video – Korean)
[CD]
1. KISS KISS
2. Lucky Guy
3. Break Down feat. Double K
4. KISS KISS (off vocal)
5. Lucky Guy (off vocal)
6. Break Down feat. Double K (off vocal)
[DVD]
1. Lucky Guy (music video – Japanese)
2. Break Down feat. Double K (music video – Korean)
Regular [CD] (¥1260)


 
[CD]
1. KISS KISS
2. Lucky Guy
3. Break Down feat. Double K
4. KISS KISS (off vocal)
5. Lucky Guy (off vocal)
6. Break Down feat. Double K (off vocal)
 
Kim Hyun Joong – "Lucky Guy" – January 25th 2012