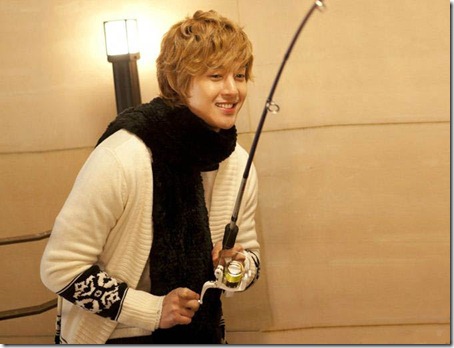 Korean singer/actor Kim Hyun Joong has announced his second Japanese single release "HEAT". The song is composed and lyrics provided by famed Japanese duo B'z (Inaba Koshi lyrics, Matsumoto Takahiro music). They will will also provide some collaboration on the song with Inaba providing some background vocals and Matsumoto on guitar. The single is due out July 4th – more early release details follow,
Kim Hyun Joong the #1 solo male artist in Korea is also the leader of boy idol group SS501 and earned many more fans with his performance in 2009 TV drama "Boys Over Flowers". His first Japanese single "KISS KISS / Lucky Guy" released January 25th selling over 100,000 copies the first week (release details).
He is also releasing his first DVD in Japan – "First Impact" – on May 16th. The DVD features footage from his first Japanese tour and his performance at the Tokyo International Forum November 2011. Watch for a follow up article here covering the details of this release…. (to be posted).
Single "HEAT" will come in five different editions:
– Limited A with bonus DVD (type A, contents not announced) and coupling track dance tune "Let's Party".
– Limited B with bonus DVD (type B, contents not announced) and coupling track.
– Limited C CD-only with additional inclusion benefits not yet announced and no coupling track.
– Limited D CD-only special price, no coupling track.
– Regular CD-only with coupling track.
All five editions will include a different lottery application for special event to be held July 15th but it appears that all 5 applications must be submitted to qualify for the event! Check out his official Japanese website for more details (linked below).
More details will be announced on the single – jacket covers, additional benefits, and DVD contents – so check back to Comtrya Sugoi.
Kim Hyun Joong – "HEAT" – release date July 4th 2012
Limited A [CD+DVD] (¥1600)


Limited B [CD+DVD] (¥1600)


[CD]
1. HEAT
2. Let's Party
[DVD]
1. tba (A version)
[CD]
1. HEAT
2. Let's Party
[DVD]
1. tba (B version)
Limited C [CD] (¥1000)


Limited D [CD] (¥500)


[CD + inclusion benefits]
1. HEAT
[CD]
1. HEAT
Regular [CD] (¥1200)


 
[CD]
1. HEAT
2. Let's Party
 
Kim Hyun Joong Official website (Korean)