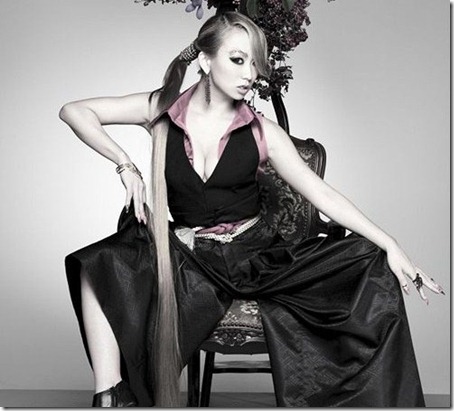 Pop-diva Koda Kumi who shocked the music world back on December 16th 2011 with the announcement that she was pregnant by BACK-ON member KENJI03, has just canceled her appearance at the "Ontama Carnival 2012" (Jan 29th). She had previously announced the cancelation of her area tour, "Koda Kumi Live Tour 2012". More details on the recent cancelation,
At the "Ontama Carnival 2012" event website Koda Kumi posted,
Since last year I've been a sick sister. I've caused worry to everyone, but I've confronted and spent time dealing with my body. This year have consulted regularly with my doctor, to look over my body and physical condition. Upon the physicians decision my appearance at Ontama must now be canceled.
The event further posted that they will be offering full ticket refunds for anyone inconvenienced by Koda Kumi's withdrawal from the event.
Soon after the pregancy announcment Koda Kumi announced (Dec 19th) the cancelation of her upcoming arena tour and later she canceled her appearance at the live event "MUSIC FOR ALL, ALL FOR ONE" (Dec 24th).
Though Koda Kumi did save up enough strength to give special performances at both the "MUSIC STATION SUPER LIVE 2011" (Dec 23rd) and 'the' New Years' music event, "Kohaku Uta Gassen" (Dec 31st).
Koda Kumi's upcoming 10th album "JAPONESQUE" (release details here) and its quite sexy Limited editions jacket covers is ready to drop this week on January 25th. How well it charts may be a good judge of fan reaction to the pop-diva's new life as an expecting mother. Our expectation is, its prime to be #1…what's yours?
Comment below and check back next Sunday the 29th for the Oricon weekly charts preview post to see where "JAPONESQUE" will chart.
Source: natalie
Koda Kumi Official website
Ontama Carnival 2012 Official website