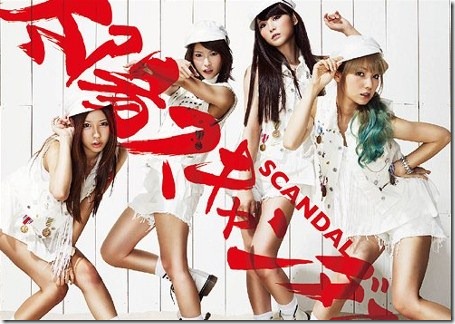 ~ Special units announced here ~
SCANDAL has exposed updated release details for their new single, "Taiyo Scandalous" (Scandalous Sun). We previously posted early information on their new single and now the jacket covers and full track list for the three editions offered are now official. The single is produced by NAOTO of ORANGE RANGE and its due out July 11th. The updated release details follow,
The new single is SCANDAL's 2nd of 2012 after their February release of "HARUKAZE" (release details) which was the final opening theme song for anime BLEACH. In addition to the single the girls also released album "Show" which is a best-of compilation album on March 7th (release details).
"Taiyo Scandalous" is offered in three editions:
– Limited Special Unit A that includes a coupling track with a band member unit.
– Limited Special Unit B that includes a different coupling track with band unit B.
– Regular Special Band Edition with different coupling track with the entire band.
Not revealed yet is who performs on the unit A & B coupling songs…
NAOTO of ORANGE RANGE who are celebrating their 10th anniversary and just released a new album "NEO POP STANDARD" (release details) is producing this single for SCANDAL and commented: "I made an image of the girls beyond just the girls of the band. We didn't want to limit the scope of our imagination for the girls, as such a "Taiyo Scandalous". I pushed to bring an exciting song and representative of the Summer."
SCANDAL – "Taiyo Scandalous" – release date July 11th 2012
Limited Special Unit A [CD] (¥1020)


Limited Special Unit B [CD] (¥1020)


[CD]
1. Taiyo Scandalous
2. Koi no Hajimari ha Diet
3. Taiyo Scandalous (off vocal)
[CD]
1. Taiyo Scandalous
2. Cherry Jam
3. Taiyo Scandalous (off vocal)
Regular Special Band Ed. [CD] (¥1020)


 
[CD]
1. Taiyo Scandalous
2. Welcome Home
3. Taiyo Scandalous (off vocal)