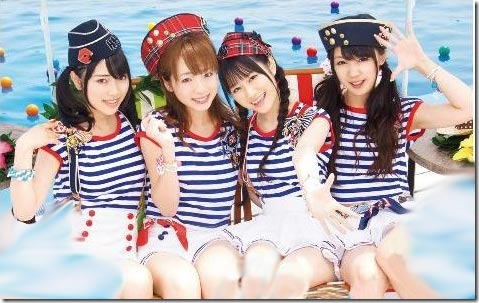 StylipS has updated the release information for their new single "Choose Me♡Darling" featured as opening theme for summer anime Nakaimo – My Sister is Among Them! (Kono Naka ni Hitori, Imoto ga Iru!). Previously we reported on their new single release and posted a preview music video. Now the full track list and cover jackets are revealed. The single hits stores August 22nd – updated details follow.
StylipS is – Ogura Yui, Ishihara Kaori, Noto Arisa, Matsunaga Maho – each are members of Hello! Project's HAPPY! STYLE Rookies!! They debuted back in February with "STUDY x STUDY" featured as ending theme for anime High School D x D and followed that up with "Miracle Rush" which is featured as opening theme for Spring anime "Saki Episode of Side A".
Member Ogura Yui released a solo single "Raise" on July 18th – the single is featured as the ending theme for summer anime Campione! The anime is available on streaming site Crunchyroll.
Summer anime Nakaimo – My Sister is Among Them! follows the story of Shougo Mikadono who is the son of an industrial magnate who has died and as a final condition before Shougo can inherit the family legacy – he must find a wife. Shougo transferred to a new school to find his mate but he then learns of a younger sister he never knew existed and she seems to be trying to marry him too! He doesn't know what this younger sister looks like so he worries he's going to choose her!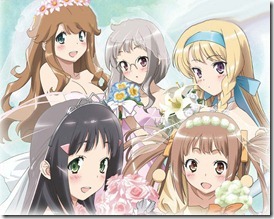 The anime began airing in Japan July 5th on TBS and is available on Crunchyroll for streaming outside of Japan. Check our Crunchyroll updates page for all the newest anime episodes or hit the link Nakaimo – My Sister is Among Them! for episodes and posts about the anime.
StylipS – "Choose Me♡Darling" – release date August 22nd 2012
Limited [CD+DVD] (¥1800)


Regular [CD] (¥1300)


[CD]
1. Choose Me♡Darling
2. Baby KISS☆
3. Fragile Crazy
4. Choose Me♡Darling (off vocal)
5. Baby KISS☆ (off vocal)
6. Fragile Crazy (off vocal)
[DVD]
1. Choose Me♡Darling (music video)
2. Choose Me♡Darling (Dance ver.)
3. Choose Me♡Darling (off shoot)
4. Footage from event at Shinjuku FACE May 27th
5. TV-spot digest (5 clips)
[CD]
1. Choose Me♡Darling
2. Baby KISS☆
3. Fragile Crazy
4. Choose Me♡Darling (off vocal)
5. Baby KISS☆ (off vocal)
6. Fragile Crazy (off vocal)
HAPPY! STYLE Rookies!! Official website
Kono Naka ni Hitori, Imoto ga Iru! Official website