November 16, 2012
-
toyNN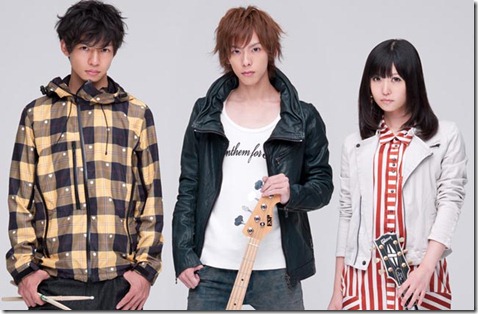 The Sketchbook has announced their 6th single which isn't yet titled but will have tie-ups with NTV Happy Music POWER PLAY and NTV Oto Ryumon Baby Dragon's Gate. The band has also announced participation in a bunch of live events and a 2013 one-man live mini-tour. All great news for The Sketchbook fans! Their new single will come in two editions and is scheduled to be in stores January 30th – read on for more early details and pre-order link…
~ updated details, "Spilt Milk / REFLECT" ~
The band The Sketchbook was formed originally around the anime SKET DANCE which ended its run at the end of September. All of their previously released singles had tie-ups with the anime as opening and ending theme songs. This is the band's first release not connected to the anime but does get the pair of tie-ups with NTV.
Lead vocalist Tada Hiroshi is preparing to release his first solo single "Wild Card" on November 21st. His single has tie-in with TV Asahi series Battle Spirits: Sword Eyes – more details can be found in another report.
The Sketchbook announced a one-man live mini-tour "The Sketchbook 2013 LIVE ~ OverRe:Action ~" with so far 3 shceduled performances,
– Feb 1st 6:30pm Shinsaibashi VARON, Osaka
– Feb 3rd 4:30pm Apollo Theater, Nagoya
– Feb 9th 4:30pm Shibuya WWW, Tokyo
The band will also be part of the "Koperu X'mas Party" on December 25th at Pasera Resorts AKIBA, Tokyo. More details on the live events are available at their official website – link at bottom.
Their new single comes on a Limited with bonus DVD and a Regular CD-only – details pending. Title and the rest of the details will be announced so come back to Comtrya Sugoi for updates.
The Sketchbook – 6th single – release date January 30th 2013
Limited [CD+DVD] (¥1890)


Regular [CD] (¥1260)


[CD]
1. undecided
2. undecided
3. undecided
4. undecided
[DVD]
1. undecided
[CD]
1. undecided
2. undecided
3. undecided
4. undecided