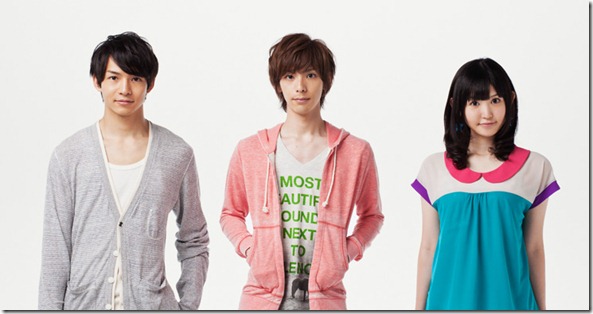 The Sketchbook has updated the release information on their first album "The Sketchbook AL". Previously we reported on the new album and now the full track list and jacket covers are official. The album includes 8 previously released songs and 5 new for 13 tracks total. "The Sketchbook AL" hits stores July 25th – updated details follow.
The Sketchbook previously announced the opening of their official fan club with a membership period between May 16th – June 6th. All new members got their names listed in the CD booklet that will accompany the new album!
The album is offered in two editions:
– Limited with bonus DVD which includes all of the previously released music videos (4) and several special features. Bonus anime themed sticker and DVD cover.
– Regular CD-only.
The band was formed specifically for anime SKET DANCE to provide theme and insert songs,
– Michi (#2 opening theme)
– Message (#4 opening theme)
– Clover (#4 ending theme)
– Kiwoku (#5 special ending theme ep 25)
– HERO (#6 ending theme) Release details for Message / HERO
– Birthday (#9, special ending theme ep 48)
– Colors (#10 ending theme)  Release details for Colors / Birthday
The current opening theme "Clear" by The Sketchbook isn't included on the album and hasn't yet been announced as a single – hopefully soon.
The Sketchbook – "The Sketchbook AL" – release date July 25th 2012
Limited [CD+DVD] (¥3990)



Regular [CD] (¥3150)


[CD]
1. Michi
2. Kakusei (new song)
3. Colors
4. Message
5. Uotakara (new song)
6. Kiwoku
7. HERO 
8. Birthday
9. Traveler (new song)
10. Funny Bunny ~The Sketchbook Ver~
11. Clover
12. Drop (new song)
13. Mirai e (new song)
[DVD]
1. Michi (music video)
2. Clover (music video) 
3. Message (music video)
4. Colors (music video)
5. Switch special endings
6. Himeko special endings
7. Bossun special endings
8. Audio commentary
9. End roll credits
CD]
1. Michi
2. Kakusei (new song)
3. Colors
4. Message
5. Uotakara (new song)
6. Kiwoku
7. HERO
8. Birthday
9. Traveler
10. Funny Bunny ~The Sketchbook Ver~
11. Clover
12. Drop (new song)
13. Mirai e (new song)