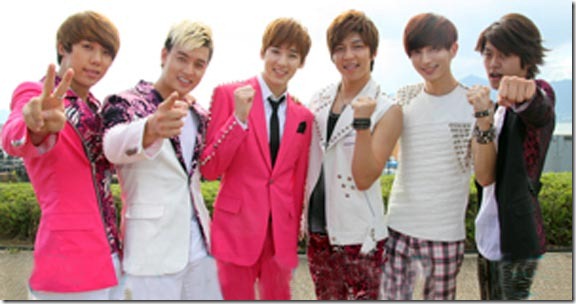 Korean group U-KISS recently added more details for their 5th Japanese single "Distance…" plus they announced a delayed release date. The full track list as been revealed for the new single described as a ballad appropriate for the coming winter holidays. Single "Distance…" is now scheduled for release on December 12th – read on for more details (audio previews added)…
~ updated details, preview video ~
U-KISS released their 4th Japanese single "One of You" on September 5th and to celebrate the release the group held a special live event at the venerable Nippon Budokan on the single's release date. They also announced that event "U-KISS LIVE IN Budokan" is going to be released on DVD and Blu-ray – scheduled release date January 1st 2013 – more details will be available in an upcoming report here.
The boys also released their 1st Japanese album "DORADORA + THE SPECIAL TO KISSME [Believe]" on September 26th. More details on the album release are here.
U-KISS is celebrating their 1st Anniversary Japan debut & launch of 5th Japanese single "Distance…" with events in Tokyo and Osaka. The First Press versions of the new single contain a lottery ticket for these events that include interview and autograph session. U-KISS fanclub members can submit possible questions for the group to answer (link at bottom).
– Dec. 14th Lazona Kawasaki Grand Stage Square Plaza 2F (time tba)
– Dec. 15th Serushi Chisato Osaka (time tba)
U-KISS's 5th Japanese single "Distance…" is offered in two editions,
– Limited with bonus DVD that includes music video and off-shoot footage for title track plus special event lottery ticket. First Press version adds bonus photo (1 of 7).
– Regular CD-only with bonus CD track of a live performance of song "One of You" during their Budokan concert in September. First Press version add bonus photo and event lottery ticket.
Cover jackets and additional bonus details will be announced so come back to Comtrya Sugoi for updates.
U-KISS – "Distance…" – release date November 21st 2012 December 12th 2012
Limited [CD+DVD] (¥1890)


Regular [CD] (¥1050)


[CD]
1. Distance…
(preview)
2. Love to Go
(preview)
3. Distance… (off vocal)
4. Love to Go (off vocal)
[DVD]
1. Distance… (music video)
2. Distance… (off shoot)
[CD]
1. Distance…
2. Love to Go
3. One of You -Live ver.- (Budokan 2012.09)
4. Distance… (off vocal)
5. Love to Go (off vocal)