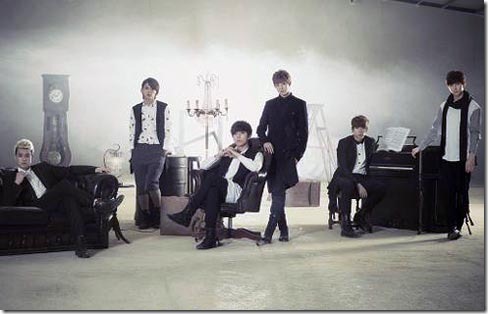 Korean group U-KISS has announced their 6th Japanese single "ALONE" which will be featured as theme song for upcoming NHK TV drama series Shotenin Michiru no Minoue Banashi. The new single will be available in two editions including a Limited with bonus DVD that includes music video and making-of footage for the title track. Single "ALONE" is scheduled to be in stores February 13th 2013 – read on for more early release details…
~ updated details ~
U-KISS is getting ready to release their 5th Japanese single "Distance…" – described as a ballad appropriate for the coming winter holidays. It comes on two editions and is scheduled it hit stores on December 12th. Updated release details, video message from U-KISS, and preview music video for "Distance…" are available in an earlier report.
U-KISS is celebrating the 1st Anniversary of theri Japan debut & launch of 5th Japanese single "Distance…" with events in Tokyo and Osaka. The First Press versions of the single contain a lottery ticket for these events that include interview, mini-live, and autograph session. U-KISS fanclub members can submit possible questions for the group to answer (link at bottom). Bring your event ticket to one of the two events,
– Dec. 14th 5:00pm Grand Stage Square Plaza 2f Lazona Kawasaki, Kanagawa.
– Dec. 15th 4:00pm (10:00am priority area) Chisato Serushi, Osaka.
U-KISS will also release a live DVD or Blu-ray of their U-KISS LIVE in Budokan event which celebrated the release of their 4th single "One of You". The event was held September 5th 2012 and the DVD/Blu-ray "U-KISS LIVE in Budokan 2012.9.5" comes out January 1st 2013. More details will be reported.
The tie-in with their 6th single NHK TV drama series Shotenin Michiru no Minoue Banashi will star Erika Toda and is based on 2009 novel Minoue Banashi by Sato Shogo. The story follows Michiru (Toda) whose ordinary life gets turned upside-down after claiming a ¥200million yen lottery with a ticket that isn't hers. The drama is scheduled to run 10 episodes and will air in Japan on NHK TV weekly beginning 10:55pm January 8th 2013.
U-KISS's new single "ALONE" comes on two editions,
– Limited with bonus DVD that is scheduled to include music video and making-of footage for title track, First Press version adds event participation ticket and photo card (1 of 7).
– Regular CD-only with bonus track, First Press version adds event participation ticket and photo card (1 of 7).
Cover jackets, full track list, and bonus details will be announced so check back to Comtrya Sugoi for updates.
U-KISS – "ALONE" – release date February 13th 2013
Limited [CD+DVD] (¥1890)


Regular [CD] (¥1050)


[CD]
1. ALONE
2. undecided
3. undecided
[DVD]
1. ALONE (music video)
2. ALONE (off shoot)
[CD]
1. ALONE
2. undecided
3. undecided
4. undecided (bonus track)