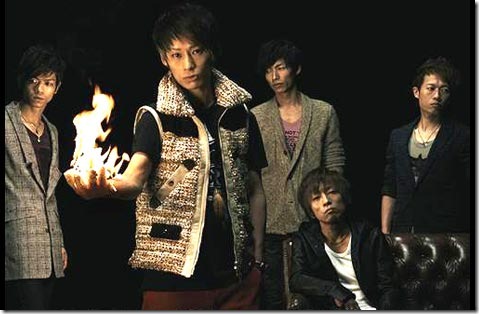 Rock band UVERworld has announced their 7th album "THE ONE" which includes singles "BABY BORN & GO / Kinjito", "7th Trigger", "THE OVER", several new songs including the title track "THE ONE" and "REVERSI" featured as the theme song for upcoming anime movie from the Blue Exorcist franchise, plus more for 13 total tracks. Album "THE ONE" comes in two editions and hits stores soon – November 28th! Read on for more release details.
Previously announced that UVERworld would provide the theme song for the upcoming Blue Exorcist anime movie and its now official – album track "REVERSI" will be the featured song. UVERworld contributed the TV series adpation 's first opening theme song "Core Pride".
The Blue Exorcist movie is an original story with the characters from the manga by Kato Kazue. The movie set in the winter adds a new character boy-demon Usamaro voiced by Rie Kugimiya and Taiwanese exorcist Cheng-Long Liu voiced by Kiuchi Hidenobu (Gosick, Monster).
The Blue Exorcist movie premiers in Japan on December 28th – trailer video follows after the album release details. The anime TV series adaption aired beginning in May 2011 and ran 25 episodes – watch it over at Crunchyroll.com or hit the link for Blue Exorcist for episode list and related reports.
UVERworld fans can watch the band at upcoming major event lives "UVERworld 2012 Arena Tour" ,
– Nov 10th & 11th Yoyogi National Stadium, Tokyo
– Dec 1st Saitama Super Arena, Saitama
– Dec 8th & 9th NGK Insulators Hall, Nagoya
– Dec 15th & 16th World Memorial Hall, Kobe
– Dec 22nd Kokusai Center, Fukuoka
A few smaller venues with UVERworld holding live events billed as "ARENA TOUR 2012 Warm-up Gig",
– Nov 5th eggman, Shibuya (fan club members only)
– Nov 8th duo MUSIC EXCHANGE Shibuya (fan club members only)
– Nov 24th Zepp Fukuoka
– Nov 26th BAY5 SQUARE Kochi
More details and ticketing information is available at the band's website (link at bottom).
UVERworld's new album "THE ONE" comes on two editions,
– Limited with bonus DVD that includes music video, live performance footage, and more, 3-way case, and 24-pg booklet.
– Regular CD-only.
UVERworld – "THE ONE" – release date November 28th 2012
Limited [CD+DVD] (¥3700)


Regular [CD] (¥3059)


[CD]

1. THE ONE (SE)
2. 7th Trigger
3. Don't Think.Feel
4. LIMITLESS
5. 23 Word
6. Koko Kara
7. KINJITO(LIVE intro ver.)
8. THE OVER
9. REVERSI (theme song Blue Exorcist movie)
10. Barbell ~ Kotei no Atarashi Fuku album ver. ~
11. BABY BORN & GO
12. AWAYOKUBA-Kill (LIVE intro ver.)
13. NOWHERE boy
[DVD]
1. undecided (music video)
2. LIVE at Avaco Studio
– CORE PRIDE
– NO.1~ace of ace
and more
3. UVERworld x digital hollywood

[CD]

1. THE ONE (SE)
2. 7th Trigger
3. Don't Think.Feel
4. LIMITLESS
5. 23 Word
6. Koko Kara
7. KINJITO(LIVE intro ver.)
8. THE OVER
9. REVERSI (theme song Blue Exorcist movie)
10. Barbell ~ Kotei no Atarashi Fuku album ver. ~
11. BABY BORN & GO
12. AWAYOKUBA-Kill (LIVE intro ver.)
13. NOWHERE boy
Blue Exorcist Official website (Japanese)
Blue Exorcist Office website (English)