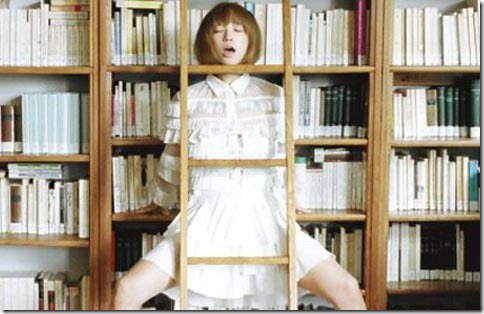 YUKI has updated the release details on her new b-sides collection album "BETWEEN THE TEN" which continues the celebration of her 10th anniversary since her debut. Cover jackets and more have been revealed. Her new album comes on two CDs that contain 19 songs previously released as b-sides of singles and a bonus 20th song YUKI released as "Jazztronki feat. YUKI". Album "BETWEEN THE TEN" comes on two editions and hits stores November 7th – read on for more updated release details.
This album is a follow-up to her "POWERS OF TEN" singles compilation album that released this past February. YUKI also held a Tokyo Dome concert this past May "YUKI LIVE SOUNDS OF TEN" to commemorate her 10th anniversary and a condensed version will be broadcast on NHK BS Premium on November 10th starting at midnight.
YUKI recently released her 26th single "Watashi no Negaigoto" featured as the theme song for live-action movie "Himitsu no Akko-Chan". The single released on August 29th and hit #10 on the Oricon singles charts – more details on the single here.
Album "BETWEEN THE TEN" comes in two editions,
– Limited 2CD with bonus bandana.
– Regular 2CD
YUKI will be live next at the ROCK IN JAPAN FES. 2012 when she's scheduled to hit the stage of this 3-day live event on November 28th at 6:00pm – link at bottom for more details.
YUKI – "BETWEEN THE TEN" – release date November 7th 2012
Limited [2CD] (¥3910)


Regular [2CD] (¥3500)


[CD1]
1. bed
2. Count Backwards
3. Byubyu
4. Koibito Yo
5. Arigatou
6. 17 Sai
7. Mikazuki
8. AIR WAVE
9. Maiagare
10. Kubiwa
[CD2]
1. Hadaka no Taiyou
2. Natsu no Hero
3. just life! all right!
4. Miss Yesterday
5. Message
6. Yuuwaku Shitekure
7. Anoko ni Naritai
8. Wild Ladies
9. Dear. Mama
10. Bedtime Story
[CD1]
1. bed
2. Count Backwards
3. Byubyu
4. Koibito Yo
5. Arigatou
6. 17 Sai
7. Mikazuki
8. AIR WAVE
9. Maiagare
10. Kubiwa
[CD2]
1. Hadaka no Taiyou
2. Natsu no Hero
3. just life! all right!
4. Miss Yesterday
5. Message
6. Yuuwaku Shitekure
7. Anoko ni Naritai
8. Wild Ladies
9. Dear. Mama
10. Bedtime Story