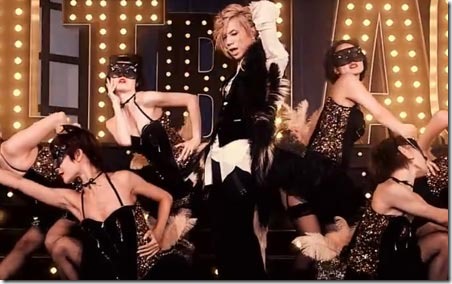 Acid Black Cherry (yasu) is getting ready to release new single Kuroneko ~ Adult Black Cat ~ and revealed a preview length music video. Its their 17th single and the 2nd season of Project Shangri-la, a special project combining a release, live tour events, and high-touch fan meetings now announced for 5 "seasons". Single Kuroneko ~ Adult Black Cat ~ hits stores November 20th 2013 – release details and preview music video follow.
Season 1 of Project Shangri-la featured Acid Black Cherry's first single in over a year Greed Greed Greed (more details). The single also has tie-in as the theme song for TBS TV drama "Akuryo Byoto". Single Greed Greed Greed hit stores August 7th 2013 and fans pushed it to #4 on the weekly Oricon charts.
Project Shangri-la now includes 5 "seasons" and started with the 1st season hitting 11 venues in Hokkaido and Tohoku area. The 11 performances began August 13th at Fukushima Cultural Hall and ended September 15th at Iwate Morioka Cultural Hall.
The 2nd season tied to this single hits 10 venues in Hokuriku, Koshin, and Tokai areas starting September 30th at Aichi Nagoya Congress Center Century Hall and ending November 13th at Toyama Shinminato Central Cultural Center.
Hit the Project Shangri-la special website for more tour and event details for all 5 seasons (link below).
Acid Black Cherry's 17th single Kuroneko ~ Adult Black Cat ~ comes on 3 editions with the Limited and Regular editions include coupling "re-creation" cover track Seishun no Regrets (1985) first made popular by Yumi Yumi (Yumi Matsutoya),
– Limited with DVD that includes music video and making-of footage for title track. Bonus b2-size poster while supplies last.
– Regular CD-only. First Press version adds photo booklet 12-pages. Bonus b2-size poster while supplies last.
– Limited low-priced one song CD-only. Bonus not available with this edition.
Sample bonus b2-size poster,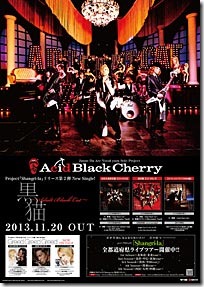 Watch the preview music video for Kuroneko ~ Adult Black Cat ~ below the release details.
Acid Black Cherry – Kuroneko ~ Adult Black Cat ~ release date November 20 2013
Limited [CD+DVD] (¥1680)


Regular [CD] (¥1000)


[CD]
1. Kuroneko ~ Adult Black Cat ~
2. Seishun no Regret (recreation track)
[DVD]
1. Kuroneko ~ Adult Black Cat ~ (music video)
2. Making-of music video
[CD]
1. Kuroneko ~ Adult Black Cat ~
2. Seishun no Regret (recreation track)
Limited Pressing Low-priced [CD] (¥375)


[CD]
1. Kuroneko ~ Adult Black Cat ~
Acid Black Cherry Official site (avex)
Acid Black Cherry official site