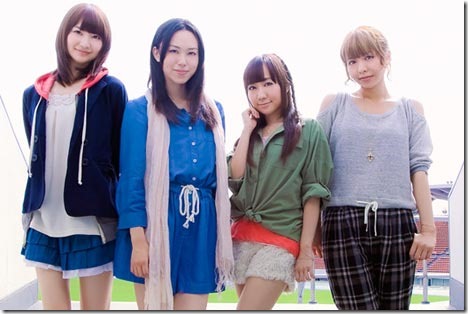 Sphere has announced their first single of 2013 – "GENESIS ARIA" that's set to be the opening theme song for anime TV series Arata Kangatari (Arata: The Legend). Sphere member Ayahi Takagaki joins the voice cast for the anime, voicing key supporting character Kotoha. Single "GENESIS ARIA" comes on two editions and scheduled for release on May 1st 2013 – more details and newest trailer video for the anime follow…
~ updated details ~
Sphere consists of popular voice actresses (seiyuu) Aki Toyosaki, Ayahi Takagaki, Haruka Tomatsu, and Minako Kotobuki. Member Ayahi Takagaki in-addition to voicing character Kotoha in the upcoming anime she is getting ready to release her first album "Relation" on April 17th 2013 (more details).
Sphere is also getting ready to release Blu-ray "Sphere's Orbit Tour 2012 FINAL SPECIAL STAGE Live" that captures their Orbit Tour 2012 FINAL SPECIAL STAGE Live held on September 15th & 16th 2012 at Makuhari Messe Event Hall. The live release hits stores March 27th 2013 (more details). Sphere recently released a music video collection "Music Clips 2009 – 2012" on Blu-ray. The collection includes all their music videos from debut single "Future Stream" to 11th single "Pride on Everyday" plus more for 15 total videos. The release hit stores February 27th 2013.
Anime Arata Kangatari (Arata: The Legend) is adapted from manga by Yuu Watase (Fushigi Yugi, Absolute Boyfriend) with the story set in a mythical world where humans and gods co-exist. Young Arata has the unfortunate honor of being the successor to the matriarchal (female led) Hime Clan. He's forced to dress and act as a girl or face death if his true gender is discovered! On the day of his inauguration, an assassination plot forces him to flee – and he somehow someway winds up in modern-day Japan! At the same time a Japanese boy named Arata Hinohara gets transferred into the mythical world and thrust into the first Arata's world fighting for his life.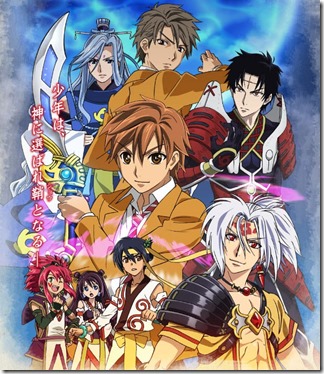 The anime is produced by Satelight and begins airing in Japan April 8th 2013 on TV Tokyo. No official word on streaming outside of Japan but Crunchyroll.com has close relationship with TV Tokyo and will likely be streaming the anime same day. See our Crunchyroll updates page for all the latest anime episodes available.
Single "GENESIS ARIA" comes on two editions,
– Limited with DVD that is planned to include music video for title track.
– Regular CD-only.
Details aren't yet complete – cover jackets, full track list, and possible bonuses will be announced so come back to Comtrya Sugoi for updates.
Enjoy the newest trailer for anime Arata Kangatari below the release details…
SPHERE – "GENESIS ARIA" – release date May 1st 2013
Limited [CD+DVD] (¥1800)


Regular [CD] (¥1200)


[CD]
1. GENESIS ARIA
2. undecided
3. undecided
4. undecided
[DVD]
1. GENESIS ARIA (music video)
[CD]
1. GENESIS ARIA
2. undecided
3. undecided
4. undecided
Arata Kanagtari Official website