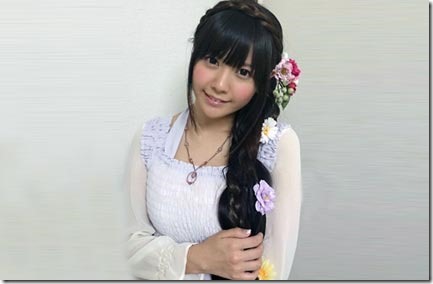 Ayana Taketatsu has announced new single Shumatsu Cinderella. The title track is a ska-dance tune produced by TGMX (Shutaro Tagami) of Frontier Backyard. Its her 4th solo single and comes on two editions. Single Shumatsu Cinderella is scheduled for release on December 4th 2013 – read on for more details….
~ updated details ~
Singer and voice actress Ayana Taketatsu released her first album apple symphony on April 15th 2013. The album includes her three singles, Sinfonia! Sinfonia!! (2012.04.11), ♪ no kuni no Alice (2012.09.12), and Jiku Tours (2013.01.09) , new songs, and more for 15 total tracks. Fans showed good support pushing the album to #7 on the weekly Oricon charts.
Ayana Taketatsu has voiced key rolls in popular anime Sword Art Online (Kirigaya/Leafa), K-ON! (Azusa Nakano), and Oreimo (Ore no Imoto ga Konna ni Kawaii Wake ga Nai) (Kirino). This fall 2013 season she is voicing the lead roll Sakura Hagiwara in anime Wanna Be the Strongest in the World (Sekai de Ichiban Tsuyoku Naritai!).
Single Shumatsu Cinderella comes on two editions that share the same CD track list (details subject to change),
– Limited with DVD that includes music video for title track.
– Regular CD-only.
Jacket covers and bonus details will be announced, come back to Comtrya Sugoi for updates.
Ayana Taketatsu – Shumatsu Cinderella – release date December 4th 2013
Limted [CD+DVD] (¥1850)

Regular [CD] (¥1350)

[CD]
1. Shumatsu Cinderella
lyrics: Ema Kigamita, music: Shutaro Tagami

2. Marshmallow
lyrics: Tange Sakura, music: Yoshida Tetsuto

3. Shumatsu Cinderella (off vocal)
4. Marshmallow (off vocal)
[DVD]
1. Shumatsu Cinderella (music video)

[CD]
1. Shumatsu Cinderella
2. Marshmallow
3. Shumatsu Cinderella (off vocal)
4. Marshmallow (off vocal)