September 28, 2013
-
toyNN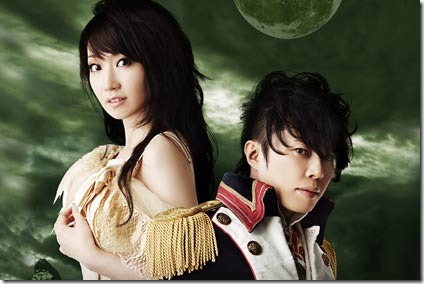 T.M.Revolution x Nana Mizuki have updated the release details for new single "Kakumei Dualism" – jacket covers and additional bonus details revealed. It's the special units 2nd single and featured as the 2nd opening theme for anime Valvrave the Liberator (Kakumeiki Valvrave) that continues this Fall 2013. Single "Kakumei Dualism" comes on three editions that hit stores on October 23rd 2013 – updated details follow.
The special unit of the popular solo artists debuted with the anime's first opening theme "Preserved Roses" (2013.05.15). Fans showed strong support pushing it to #2 on the weekly Oricon charts with over 115,000 copies sold opening week.
Singer/voice actress Nana Mizuki, still one of the most popular anime voice actresses, released released her 29th single "Vitalization" on July 31st 2013 (more details). The single is featured as the opening theme for anime Symphogear G in which she also voices key character Tsubasa Kazanari. The single also includes coupling track "Ai no Hoshi" also with a tie-in as the ending theme for anime series Space Battleship Yamato 2199 (Chapter 7).
T.M.Revolution or T.M.R. is the alter-ego created by Takanori Nishikawa who also created and leads rock band abingdon boys school. Nishikawa as T.M.R. has released 25 singles from 1995-2012 and 9 original albums. T.M.R. has recently announced a new compilation album of his many collaborations with anime "GEISHA BOY – ANIME SONG EXPERIENCE". The album is scheduled for release October 9th 2013.
Anime Valvrave the Liberator (Kakumeiki Valvrave) is an original mech anime from Sunrise studios. The story is set in a new age where most of humanity lives within the gigantic "Dyson Sphere", a city in space. The world is divided into two main powers: The Dorssia Military Pact Federation and the Atlantic Rim United States (ARUS).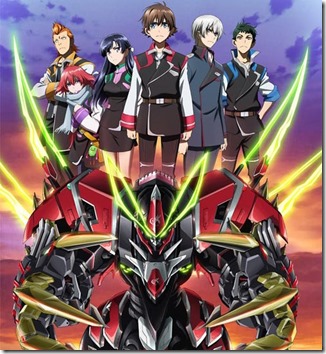 Nation JIOR has declared neutrality and maintains its peace through economic prosperity and within the JIOR's Sphere, Haruto Tokishima lived an ordinary life as a high school student. But now the Dorssian military begins a sudden invasion! Soon the whole world will be shaken when Haruto meets the mysterious humanoid weapon, Valvrave!
Anime Valverave the Liberator aired 12 episodes April-June 2013 and season two begins airing October 10th 2013. Outside of Japan provider Crunchyroll will again simulcast the anime. Be sure to check out our Crunchyroll updates page for all the latest anime episodes or hit the link for Valvrave the Liberator for episodes and related stories.
The first ending theme for the anime's second season is provided by ELISA with single "REALISM" (more details).
Single "Kakumei Dualism" (produced by Elements Garden) comes on three editions each with different track list,
– Limited with DVD that includes music video and TV CM spots for the single and anime. Two song CD includes title track and TV-size version. Includes bonus trading card type-A
– Limited Pressing anime themed with title track only. Includes bonus trading card type-B.
– Regular with three song CD that includes title track plus artist versions. Includes bonus trading card type-C
Additional bonus B3-poster (differs) while supplies last at target stores: Animate, Gamers, Toranoana. Other stores offer an additional bonus postcard (similar) while supplies last.
T.M.Revolution x Nana Mizuki – "Kakumei Dualism" – release date October 23rd 2013
Limited [CD+DVD] (¥1500)


Limited Pressing [CD] (¥500)


[CD]
1. Kakumei Dualism
lyrics: Hibiki, composer: Noriyasu Agematsu, arrangment: Iwahashi Hoshimi

2. Kakumei Dualism (TV-size)
[DVD]
1. Kakumei Dualism (music video)
2. Kakumei Dualism (8 TV-spots)
3. Valvrave the Liberator (TV-spots)

[CD]
1. Kakumei Dualism
Regular [CD] (¥888)


[CD]
1. Kakumei Dualism
2. Kakumei Dualism (Nana Mizuki ver.)
3. Kakumei Dualism (T.M.Revolution ver.)
T.M.R. x Nana Mizuki Special website
Valvrave the Liberator Official website
T.M.Revolution Official website
Nana Mizuki Official website Nana Party