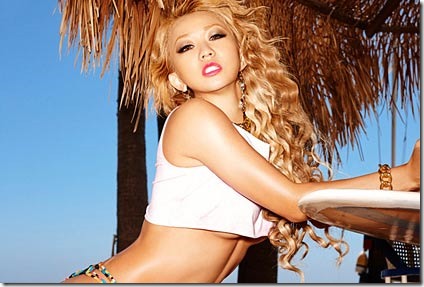 Koda Kumi has updated the details for her 55th single "Summer Trip" – jacket covers and CD track list revealed. The single renews her summer themed single releases after a hiatus last year when she was becoming a first time mother. Single "Summer Trip" comes on two editions that will hit stores July 31st 2013 – more details follow…
Most recently Koda Kumi released her 2nd covers album "Color the Cover" (2013.02.27). The album features Koda Kumi covering songs with updated arrangements such as "Pink Spider" from hide (1998, released after his death), "Lovely" from Ozawa Kenji (1994), and "Shake Hip!" from Kome Kome CLUB (1986) (more details, preview).
Koda Kumi just kicked off her major arena live events for the "Koda Kumi Live Tour 2013 ~ JAPONESQE" with the Yokohama Arena events recorded for later release,
– June 21 6:00pm & June 22 5:00pm Castle Hall Osaka
– June 29th 5:00pm & June 30th 3:00pm Yokohama Arena
Koda Kumi has also announced live house event for fan-club members. She last held these types of lives 5 years ago which will hit 9 smaller venues with 19 total events current scheduled for the fall (link to fan-club below),
– October 27th 3:00pm & 6:30pm Club Junk Box, Nagano
– October 29th, 30th, 31st 6:00pm Zepp DiverCity, Tokyo
– November 2nd 6:30pm Zepp Sapporo
– November 4th 2:45pm & 6:30pm Rensa, Sendai
– November 6th & 7th 6:00pm Zepp, Nagoya
– November 9th 2:45pm & 6:30pm BLUE LIVE, Hiroshima
– November 16th 3:00pm & 6:30pm SOUND SHOWER ark, Shizuoka
– November 21st & 22nd 5:30pm Zepp, Fukuoka
– November 26th, 27th, 28th 6:00pm Zepp, Namba
Single "Summer Trip" comes on two editions with 3 songs,
– Limited with DVD (contents undecided).
– Regular CD-only
Additional bonus details not announced and contents of Limited edition DVD still undecided. Information will be updated with announced.
Koda Kumi "Summer Trip" – release date July 31st 2013
Limited [CD+DVD] (¥1890)


Regular [CD] (¥1260)


[CD]

1. Radio Show Start〜LALALALALA〜 【Intro】
2. LALALALALA
3. Show Time〜IS THIS TRAP? 【Interlude】
4. IS THIS TRAP?
5. Show Time〜TOUCH DOWN〜【Interlude】
6. TOUCH DOWN
7. Radio Show End【Outro】
[DVD]
1. undecided

[CD]

1. Radio Show Start〜LALALALALA〜 【Intro】
2. LALALALALA
3. Show Time〜IS THIS TRAP? 【Interlude】
4. IS THIS TRAP?
5. Show Time〜TOUCH DOWN〜【Interlude】
6. TOUCH DOWN
7. Radio Show End【Outro】