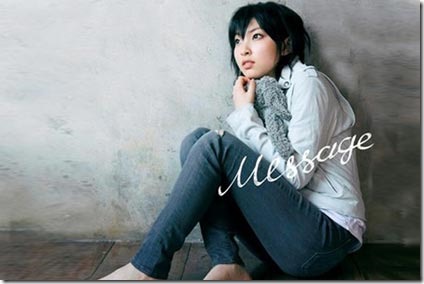 Leo Ieiri is getting ready to release her 4th single "Message"  and has revealed a preview PV music video for the title track. Her new single "Message" is featured as the theme song for TBS TV drama "Kakusho ~ Keishico Sousa 3" and hits stores May 22nd 2013. Release details and preview music video follow…
~ new PV revealed ~
Singer/song writer Leo Ieiri (18, Best Newcomer 2012) just released her first live DVD & Blu-ray – "LEO ~ 1st Live Tour ~". The release captures her performance January 19th 2013 at Club Quattro in Osaka during her first solo tour. The live release hit stores March 27th 2013 (more details).
Her 4th single "Message" comes on three editions, each features a different coupling track captured live during her event at Akasaka BLITZ March 17th 2013,
– Limited A with DVD that includes music video and making-of footage for title track. Application card/event ticket.
– Limited B with DVD that includes digest footage of Leo Ieiri live at Akasaka BLITZ held March 17th 2013. Application card/event ticket.
– Regular CD-only with bonus live performance track.
Limited editions include a lottery application card for a special goods.
Enjoy the preview PV music video spot for single "Message" after the single's release details…
Leo Ieiri – "Message" – release date May 22nd 2013
Limited A [CD+DVD] (¥1800)


Limited B [CD+DVD] (¥1800)


[CD]
1. Message
2. Wake you up 
3. Kokoro no ka ta chi (live at Akasaka BLITZ)
4. Message (off vocal)
5. Wake you up (off vocal)
[DVD]
1. Message (music video)
2. Message (off shoot)
[CD]
1. Message
2. Wake you up
3. Mister (live at Akasaka BLITZ)
4. Message (off vocal)
5. Wake you up (off vocal)
[DVD]
1. Digest footage live Akasaka BLITZ
Regular [CD] (¥1200)


 
[CD]
1. Message
2. Wake you up
3. Sabrina (live at Akasaka BLITZ)
4. Kimi dake (live at Akasaka BLITZ)
5. Message (off vocal)
6. Wake you up (off vocal)
 
Kakusho ~ Keishico Sousa 3 website