February 18, 2013
-
toyNN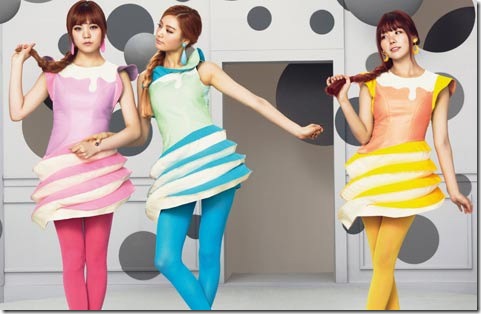 ORANGE CARAMEL is getting ready to release their first Japanese album, the self-titled "ORANGE CARAMEL". The album includes songs from their first two Japanese singles, additional Japanese versions of their Korean songs, new songs, and 2 undecided tracks for a total of 10 planned tracks. ORANGE CARAMEL's first Japanese album comes on three editions and hits stores March 13th 2013 – read on for full release details and preview videos for new album song "Cookies Cream & Mint", plus previously released "LIPSTICK", and more.
ORANGE CARAMEL is a sub-unit of AFTERSCHOOL featuring members Lizzy, Nana, and Reina. They have a more cute, sweet, and light-hearted theme than the sexier AFTERSCHOOL. They debuted in Korean with mini-album "Magical Girl" June 2010 and second mini-album "A~ing ♡" November 2010. Most recently they released their first full length Korean album "LIPSTICK" on September 13th 2012.
In Japan they launched activities with single "Yasashii Akuma" ("My Sweet Devil") – a cover of 1977 song by Candies. The single released September 5th 2012 and included a Japanese version of their debut Korean song "Mahou Shoujo" ("Magical Girl"). Their second Japanese single "LIPSTICK / Lum no Love Song" released December 12th 2012 and included the Japanese version of their Korean song and cover of first opening theme song for anime Urusei Yatsura (1981, Yuuko Matsutani orig.).
Their first Japanese album "ORANGE CARAMEL" comes on three editions,
– Limited "Music Video" theme with DVD that includes 8 music videos (some are the Korean original) and special making-of footage. First Press version adds slip-cover case.
– Limited "Variety Show" theme with DVD that includes footage from their variety show(s) and off-shoot footage. First Press version adds slip-cover case.
– Regular CD-only.
Track list for the CD isn't yet official and two additional songs are planned (song order may change also).
ORANGE CARAMEL – "ORANGE CARAMEL" – release date March 13th 2013
Limited "Music Video" [CD+DVD] (¥3990)


Limited "Variety Show" [CD+DVD] (¥3990)


[CD]
1. AING (Japanese ver.)
2. Mahou Shoujo (Japanese ver.)
3. Cookies Cream & Mint (new)
4. Bangkok City (Japanese ver.)
5. LIPSTICK (Japanese ver.)
6. Lum no Love Song
7. Yasashii akuma
8. Shanghai Romance (Japanese ver.)
9. undecided
10. undecided
[DVD]
1. Cookies Cream & Mint
2. Lamb no Love Song
3. LIPSTICK (Japanese ver.)
4. Yasashii akuma
5. Bangkok City (original ver.)
6. Shanghai Romance (original ver.)
7. AING (original ver.)
8. Mahou Shoujo (original ver.)
9. Special making-of movie
[CD]
1. AING (Japanese ver.)
2. Mahou Shoujo (Japanese ver.)
3. Cookies Cream & Mint (new)
4. Bangkok City (Japanese ver.)
5. LIPSTICK (Japanese ver.)
6. Lum no Love Song
7. Yasashii akuma
8. Shanghai Romance (Japanese ver.)
9. undecided
10. undecided
[DVD]
1. Variety Show
2. Ore Chara channel RETURNS!! ~Watashi wo ♡♡♡ni Tsuretette~
3. Variety Show (off shoot)
Regular [CD] (¥3150)


[CD]
1. AING (Japanese ver.)
2. Mahou Shoujo (Japanese ver.)
3. Cookies Cream & Mint (new)
4. Bangkok City (Japanese ver.)
5. LIPSTICK (Japanese ver.)
6. Lum no Love Song
7. Yasashii akuma
8. Shanghai Romance (Japanese ver.)
9. undecided
10. undecided
Cookies Cream & Mint
LIPSTICK (Japanese ver.)
Lum no Love Song
Yasashii akuma
ORANGE CARAMEL Official website (Korean)