November 14, 2013
-
toyNN
Sphere's new single Sticking Places hits stores on November 27th 2013 and the full track list, jacket covers, and bonus details are revealed. Its their 13th single and has a tie-in as ending theme for anime TV series Yu-Sibu. Single Sticking Places comes on three editions – updated release details follow.
Unit Sphere consists of popular voice actresses (seiyuu) Aki Toyosaki, Ayahi Takagaki, Haruka Tomatsu, and Minako Kotobuki. They have announced a special 5th anniversary meeting on November 17th 2013 at 10:00pm jst with special announcements and viewer interaction. The event will be streamed live on JAMBORii Station and Ustream (links below).Viewers are asked to response via Twitter (hashtag #sphere5s) and Facebook with "…the future of Sphere to be determined by the opinion of all of you!"
In addition to their anime voice work and activities with Sphere each member has solo projects. Member Aki Toyosaki is getting ready to release her 2nd album "Love letters" on September 25th 2013 (more details). Ayahi Takagaki released her 6th single "Next Destination" (2013.08.14) with tie-in as ending theme for anime Symphogear G (more details).
Anime Yu-Sibu, full title Yusha ni Narenakatta Ore wa Shibushibu Shushoku wo Ketsui Shimashita (Since not becoming a hero, reluctantly I've taken a job), is adapted from comedy light novels by Jun Sakyo. The story follows Raul Chaser who didn't get a chance to become a hero when the demon lord was defeated before his hero exam. He reluctantly decides to get a job at a general goods shop in the capital city. One day another part-time job seeker comes to the shop, Fino Bloodstone, the daughter of the defeated demon lord and heir of the demon lord.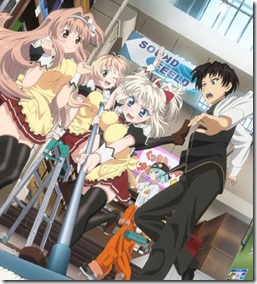 The anime began airing in Japan late-night October 4th 2013 on Tokyo MX and outside of Japan watch on Crunchyroll. Check our Crunchyroll updates page for all the latest anime episodes or hit the link for Yu-Sibu for episodes and related stories.
The anime's opening theme is provided by ZAQ with her 4th single Extra Revolution (more details).
Sphere's 13th single Sticking Places comes on 3 editions,
– Limited with DVD that includes music video for title track.
– Limited Pressing anime themed with illustrated jacket.
– Regular CD-only.
Bonus photo available on each edition purchased at target stores (HMV, Sofmap, Sony, Toranona, Tower Records, Animate, Gamers),
Sphere – Sticking Places – release date November 27th 2013
Limited [CD+DVD] (¥1800)


Limited Pressing Anime [CD] (¥1200)


[CD]
1. Sticking Places
2, Rinkaku no nai mirai e to
3. Sticking Places (off vocal)
4. Rinkaku no nai mirai e to (off vocal)
[DVD]
1. Sticking Places (music video)
[CD]
1. Sticking Places
2, Rinkaku no nai mirai e to
3. Sticking Places (off vocal)
4. Rinkaku no nai mirai e to (off vocal)
Regular [CD] (¥1200)


[CD]
1. Sticking Places
2, Rinkaku no nai mirai e to
3. Sticking Places (off vocal)
4. Rinkaku no nai mirai e to (off vocal)
Sphere Official website (Planet Sphere)