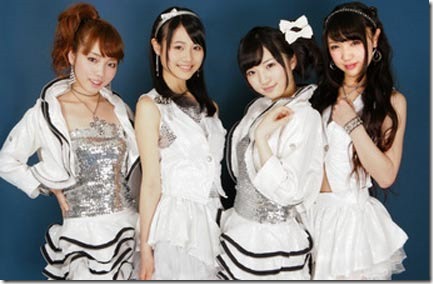 StylipS recently announced their 4th single "Prism Sympathy" with tie-in as ending theme for anime Fate/kaleid liner Prisma☆Illya. Their new single comes on two editions that will hit stores July 24th 2013. More details plus a preview music video and newest trailer for the anime all follow.
The idol/voice acting unit has just undergone a line-up change with original members Yui Ogura and Ishihara Kaori graduating from the group in April. Two new members Ito Miku and Toyota Moe are joining Matsunaga Maho and Noto Arisa.
Former member Yui Ogura recently released her second solo single "Baby Sweet Berry Love" (2013.05.08) with tie-in as ED for anime Hentai Prince and the Stony Cat. Yui Ogura is also voicing lead character Tsukiko Tsutsukakushi in the anime. Also in the anime is former member Ishihara Kaori voicing the roll of Azusa Azuki
The unit debuted in February 2012 with single "STUDY x STUDY" ED anime High School D x D and followed that up with single "Miracle Rush" OP anime "Saki Episode of Side A" and single "Choose Me♡Darling" (2012.08.22) OP anime Nakaimo – My Sister is Among Them! (Kono Naka ni Hitori, Imoto ga Iru!). The group also marked the end of the original line-up with what they promoted as their 1st Best Album "The Lightning Celebration" (2013.04.24).
Anime Fate/kaleid liner Prisma☆IIlya is adapted from manga series by Hiroshi Hiroyama. It's a spin-off of the popular Type-Moon Fate/stay night series with a re-imaged story following characters Rin Tohsaka,  Illyasviel von Einzbern, and others as a magical girls.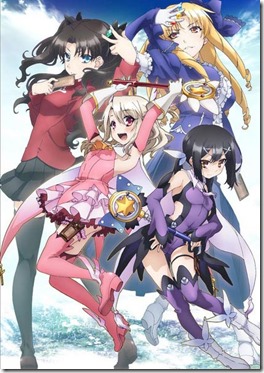 The anime is produced by SILVER LINK and airs in Japan beginning July 12th 2013 on Tokyo MX. No announcement yet if it will be streamed outside of Japan.
StylipS will hold several release events "Brand-new Style!" that will feature a mini-live and talk,
– July 14th 2013 4:00pm Sunshine Fountain Square, Ikebukuro "Itsu datte Bokura wa Brand-new Style! vol. 3"
– August 3rd 2013 1:00pm & 4:00pm WWW Shibuya "Prism ☆ Celebration"
Their 4th single comes on two editions,
– Limited with DVD that's planned to include music video for title track.
– Regular CD-only will feature an anime themed illustrated jacket cover.
Selected stores offer a bonus photo or extra jacket cover (images and availability vary: Animate, Gamers, Toranoana, Sofmap, Tower Records – samples below). Other stores may offer an photo matching jacket cover (not yet released). 
Full track list, cover jackets, and other possible bonuses will be announced, so come back to Comtrya Sugoi for updates.
Watch the preview music video for "Prism Sympathy", StylipS members promo, and the newest trailer for anime Fate/kaleid liner below the release details…
StylipS "Prism Sympathy" – release July 24th 2013
Limited [CD+DVD] (¥1800)


Regular [CD] (¥1300)


[CD]
1. Prism Sympathy
2. undecided
3. undecided
4. undecided
[DVD]
1. Prism Sympathy
2. undecided
[CD]
1. Prism Sympathy
2. undecided
3. undecided
4. undecided
Fate / kaleid liner Official website