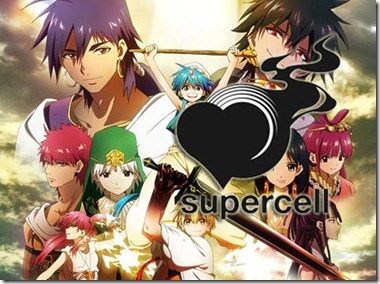 Group supercell has announced a new single "The Bravery" that will be featured as the second ending theme for anime Magi – The Labyrinth of Magic. The popular prime-time anime continues this Winter season after beginning in October 2012. New single "The Bravery" comes on three editions and scheduled to be in stores March 13th 2013 – read on for more details…
~ updated details ~
supercell, lead by busy composer ryo, released their 7th single "Giniro Kamihikoki" – their first in 8 months on December 19th 2012. Its featured as opening theme song for anime movie Nerawareta Gakuen. More details here.
EGOIST, ryo's other project, is releasing single "All Alone With You" with tie-in as the second ending theme for anime TV series PSYCHO-PASS. The single is the unit's 4th and follows their single "Namae no Nai Kabutsu" (Dec 5th) which was featured as the first ending theme the anime. Single "All Alone With You" will be in stores March 6th 2013 (more details).
Anime Magi – The Labyrinth of Magic is adapted from popular manga by Ohtaka Shinobu which has sold over 7.5 million copies across 15 volumes. The story is set in the magical world of Ali Baba, Sinbad, the middle-east, and Aladdin. A young Ali Baba learns that he can attain great wealth and power by conquering one of the mystical Dungeons. While traveling he meets Aladdin and they agree to find the Dungeon together.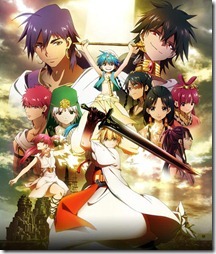 Magi – The Labyrinth of Magic airs in Japan on MBS/TBS TV Sundays at 5:00pm starting October 7th. It can been seen outside of Japan on Crunchyroll – check our Crunchyroll updates page for all the latest episodes or hit the link for Magi – The Labyrinth of Magic for all episodes and related posts.
Group Porno Graffitti (ポルノグラフィティ) has announced their 37th single "Matataku hoshi no shita de" (瞬く星の下で) which will be featured as the second opening theme for anime Magi – The Labyrinth of Magic. More release details.
New single "The Bravery" comes on three editions,
– Limited A with bonus Blu-ray (contents undecided), sticker.
– Limted B with bonus DVD (contents undecided), sticker.
– Regular CD-only.
Release details are early and cover jackets, full track list, and possible bonuses will be announced so come back to Comtrya Sugoi for updates.
supercell "The Bravery" – release date March 13th 2013
Limited A [CD+BD] (¥1890)


Limited B [CD+DVD] (¥1680)


[CD]
1. The Bravery
2. undecided
3. undecided
4. undecided
[BD]
1. undecided
[CD]
1. The Bravery
2. undecided
3. undecided
4. undecided
[DVD]
1. undecided
Regular [CD] (¥1223)


 
[CD]
1. The Bravery
2. undecided
3. undecided
4. undecided
 
Magi – Labyrinth of Magic Official website