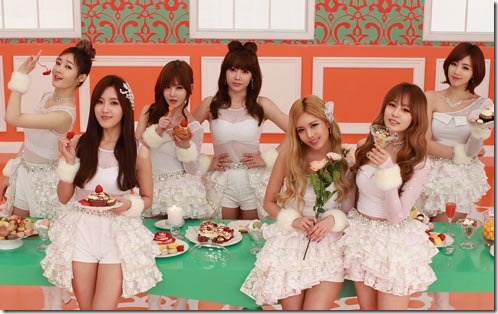 T-ARA has revealed the cover jackets and a full length music video for their new Japanese single "Bunny Style!" or "Banisuta!" (バニスタ!). Its their first Japanese single for 2013 and 6th overall. Besides coming on three Limited editions the single is available on Regular editions featuring each member (7). Single "Bunny Style!" is scheduled to hit stores March 20th 2013 – updated release details and music video follow.
The Korean girl group released their 5th Japanese single "Sexy Love" which was previously released in Korea as part of their "Mirage" mini-album . The single was also their first in Japan after a shake-up of members over the summer that had Hwayoung leave under some controversy and Areum join. The single hits stores November 14th 2012 and climbed to #4 on the Oricon weekly charts.
T-ARA more recently released their "T-ARA JAPAN TOUR 2012 ~ Jewelry Box ~ LIVE IN BUDOKAN" that captures their performance, un-cut at Nippon Budokan July 2012. The DVD or Blu-ray hit stores December 5th 2012 (more details).
The celebrate their new Japanese single "Bunny Style!", T-ARA has been on a mini-tour of special promotional events. Most events have free viewing for mini-live with priority viewing and handshake meeting for those reserving the single at the target store and passing a ticket lottery,
– Feb 20th Sapporo Factory Atrium
– Feb 21st Central Court Morioka Aeon Mall
– Feb 22nd Kashiwa Tsugaru Aeon Mall
– Feb 23rd Tower Records Akita
– Feb 24th Ishinomaki Aeon Mall
– Feb 25th Tower Records Shibuya
– Feb 28th Tower Records Koshigaya Saitama Aeon Mall
– March 1st Hamamatsu City Aeon Mall
– March 2nd 3:00pm Oasis 21 Nagoya (Tower Records Nagoya)
– March 3rd 3:00pm Kyoto Museum (Tower Records Kyoto)
– March 4th 6:30pm Nishinomiya Gardens (HMV Nishinomiya)
– March 5th 6:30pm Ayagawa Aeon Mall (Sound Village Ayagawa)
– March 6th TBA Niihama Aeon Mall (Tower Records Niihama)
– March 7th 6:00pm Friendship Plaza Okayama (Forest Kinokuniya)
– March 8th TBA Omuta Aeon Mall (Future Shop Omuta)
– March 9th 3:00pm Seagull Square Nagasaki (Tower Records Nagasaki)
More details at special website (link below).
T-ARA's new Japanese single features the full group performing the main track 'Bunny Style!" on all versions of the single. Each of the Limited editions feature one of three sub-units preforming an original Japanese song as the coupling track. Each includes a DVD with music video(s). First Press version as bonus member photo (1 of 7).
Each member is featured on their own Regular edition and performs a solo original Japanese song as the coupling track. Added bonuses for First Press versions are a a slip-cover case and member photo (1 of 7).
Enjoy the full length music video for "Bunny Style!" below the release details
T-ARA – "Bunny Style!" – release date March 20th 2013
Limited A [CD+DVD] (¥1800)


Limited B [CD+DVD] (¥1800)


[CD]
1. Bunny Style!
2. Sign (Soyeon + Areum)
[DVD]
1. Bunny Style! (music video)
[CD]
1. Bunny Style!
2. Shabondama no Yukue (Boram + Qri)
[DVD]
1. Bunny Style! (music video)
Limited C [CD+DVD] (¥1800)


Regular D "Soyeon" [CD] (¥1200)


[CD]
1. Bunny Style!
2. Dangerous Love (Jiyeon + Eunjung + Hyomin)
[DVD]
1. Bunny Style! (music video)
[CD]
1. Bunny Style!
2. Ai no uta (Soyeon)
Regular E "Eunjung" [CD] (¥1200)


Regular F "Boram" [CD] (¥1200)


[CD]
1. Bunny Style!
2. Two As One (Eunjung)
[CD]
1. Bunny Style!
2. Maybe Maybe (Boram)
Regular G "Jiyeon" [CD] (¥1200)


Regular H "Qri" [CD] (¥1200)


[CD]
1. Bunny Style!
2. For You (Jiyeon)
[CD]
1. Bunny Style!
2. Do We Do We (Qri)
Regular I "Hyomin" [CD] (¥1200)


Regular J "Areum" [CD] (¥1200)


[CD]
1. Bunny Style!
2. Love Suggestion (Hyomin)
[CD]
1. Bunny Style!
2. Happy Rain (Areum)
T-ARA Official website (Korea)
T-ARA Bunny Style! Special website