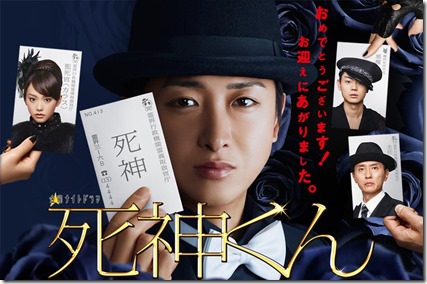 Arashi (嵐) recently announced new single Daremo Shiranai (誰も知らない) featured as the theme song for drama Shinigami-kun (死神くん) staring member Ohno Satoshi (大野智). Their 44th single and 3rd in 2014 comes on two editions scheduled for release on May 28th 2014. Read on for more details and trailer for the new drama…
~ jacket covers and more revealed ~
Top male vocal group Arashi is getting ready to released 43rd single GUTS! on April 30th 2014 (more details). The single's featured as the theme song for NTV drama Yowakute mo Katemasu ~ Seiji Sensei to Heppoko Koko Kyuji no Yabo ~ starring member Ninomiya Kazunari. To start off 2014 Arashi released 42nd single Bittersweet with the title track featured as the theme song for Fuji TV drama Shitsuren Chocolatier staring member Matsumoto Jun. Plus coupling track Road to Glory has tie-up as theme song for NTV Sochi Olympic 2014 broadcast that features member Sho Sakurai as special announcer.
Drama Shinigami-kun (死神くん) is adapted from manga by Koichi Endo that ran 1983-1990 in Jump Comics. Ohno Satoshi stars as Shinigami-kun who comes to carry your soul to the spirit world. With each episode a new death card will be shown to someone who only has a few days to live. Can you live without regret in the days remaining?
The drama airs starting April 18th 2014 on TV Asahi, more details at official website (link below). Watch the trailer video below the release details.
Arashi's 44th single Daremo Shiranai comes on two editions plus a bundled version. Limited includes lyrics booklet and Regular adds different coupling tracks plus three karaoke tracks. Jacket covers, full track list, and more details will be announced – follow Comtrya Sugoi for updates.
Arashi – Daremo Shiranai (誰も知らない) – release date May 28th 2014
Limited [CD+DVD] (¥1400)

Regular [CD] (¥1143)

[CD]
1. Daremo Shiranai
2. undecided A
3. undecided A (off vocal)
[DVD]
1. Daremo Shiranai (music video)
[CD]
1. Daremo Shiranai
2. undecided B
3. undecided C
4. Daremo Shiranai (off vocal)
3. undecided B (off vocal)
6. undecided C (off vocal)
Bundled Limited + Regular (¥2543)

 
Arashi Official website (Johnny's Net)
Arashi Official website (J-Storm)