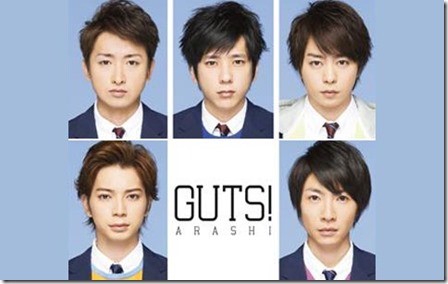 Arashi (嵐) has revealed more details for 43rd single GUTS! – full track list and jacket covers unveiled. The single's title track featured as the theme song for NTV drama Yowakute mo Katemasu ~ Seiji Sensei to Heppoko Koko Kyuji no Yabo ~ starring member Ninomiya Kazunari. Single GUTS! comes on two editions plus a bundled version and all drop April 30th 2014 – updated details follow.
Most recently top male vocal group Arashi released 42nd single Bittersweet with the title track featured as the theme song for Fuji TV drama Shitsuren Chocolatier staring member Matsumoto Jun. Plus coupling track Road to Glory has tie-up as theme song for NTV Sochi Olympic 2014 broadcast that features member Sho Sakurai as special announcer. Single Bittersweet released February 12th 2014 and fans powered it up the Oricon charts to #1 with over half a million copies sold opening week.
New single GUTS! comes on two editions with different CD track list plus a bundled version with both. Limited includes 12-page lyrics booklet and Regular CD-only includes two different coupling tracks plus three karaoke tracks
Watch the new TVCM spot for drama Yowakute mo Katemasu featuring Ninomiya Kazunari below the release details. The drama begins airing April 12th 2014 on NTV more details at official website (link below).
Arashi – GUTS! – release date April 30th 2014
Limited [CD+DVD] (¥1400)

Regular [CD] (¥1143)

[CD]
1. GUTS!
lyrics: eltvo, s-Tnk, composer: SAKARA, arrangement: Ishizuka Tomoo

2. Fly
lyrics: HYDRANT, composer: Yasushi Watanabe, arrangement: Yoshioka Taku

3. Fly (off vocal)
[DVD]
1. GUTS! (music video)

[CD]
1. GUTS!
2. Kimi ga Waraeru yo ni
lyrics: KOSH, Macoto56, composer: KOSH, arrangement: ha-j

3. Love Wonderland
lyrics: AKIRA, music: AKIRA, U-TA
 
4. GUTS! (off vocal)
5. Kimi ga Waraeru yo ni (off vocal)
6. Love Wonderland (off vocal)

Bundled Limited + Regular editions (¥2543) 

Arashi Official website (Johnny's Net)
Arashi Official website (J-Storm)