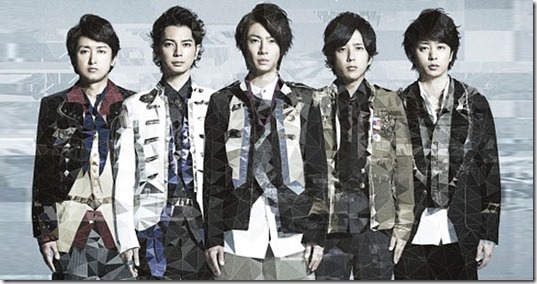 Arashi (嵐) revealed the full track list and jacket covers for new album THE DIGITALIAN. Their 13th original album includes singles, member solo songs, and eight new songs including lead song Zero-G. Album THE DIGITALIAN comes on two editions releasing October 22nd 2014 – read on for all the details.
Their new album features several songs with lyrics written by group members. Sho Sakurai wrote the lyrics for three tracks including his solo song Hey Yeah! and the Regular Edition's bonus track Take Off!!!!!.
Arashi released 12th album LOVE about one year ago on October 23rd 2013 and dominated the Oricon charts making it the top selling album for 2013 with over 784,000 copies sold.
Most recently Arashi released 44th single Daremo Shiranai (誰も知らない) on May 28th 2014 (more details). The title song's featured as theme song for drama Shinigami-kun (死神くん) staring member Ohno Satoshi (大野智).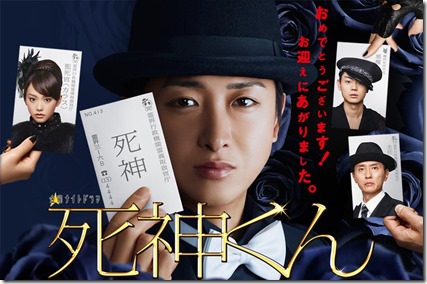 The other singles included on the album – 43rd single GUTS! (2014.04.30) and 42nd single Bittersweet (2014.02.12) with the title track featured as the theme song for Fuji TV drama Shitsuren Chocolatier staring member Matsumoto Jun.
Album THE DIGITALIAN comes on two editions plus most stores offer a bundled set. The *Limited edition includes DVD with music video and making-of documentary for album lead song Zero-G plus a 60-page photo/lyrics booklet all in deluxe packaging. The Regular edition adds a bonus song and 32-page lyrics booklet.
*Limited edition sold-out nearly immediately at most stores and the bundled set that includes the Limited edition also sold-out very quickly unfortunately.
Arashi – THE DIGITALIAN – release date October 22nd 2014
Limited [CD+DVD] (¥3250)


Regular [CD] (¥3000)


[CD]
1. Zero-G
2. Wonderful
3. Tell me why
4. Asterisk
lyrics: Sho Sakurai 

5. Imaging Crazy (Ohno Satoshi)
6. GUTS!
7. Disco Star (Masaki Aiba)
8. Daremo Shiranai
9. TRAP
10. STAY GOLD (Jun Matsumoto)
lyrics: Macoto56, Jun Matsumoto

11. Bittersweet
12. Merry Christmas (Kazunari Ninomiya)
lyrics: Ogawa Takashi, Kazunari Nonomiya

13. Kimi no Yume wo Miteita
14. One Step
15. Hey Yeah!  (Sho Sakurai)
lyrics: Sho Sakurai

16. Hope in the darkness
[DVD]
1. Zero-G (music video)
2. Zero-G making-of music video (24min approx)

[CD]
1. Zero-G
2. Wonderful
3. Tell me why
4. Asterisk
5. Imaging Crazy (Ohno Satoshi)
6. GUTS!
7. Disco Star (Masaki Aiba)
8. Daremo Shiranai
9. TRAP
10. STAY GOLD (Jun Matsumoto)
11. Bittersweet
12. Merry Christmas (Kazunari Ninomiya)
13. Kimi no Yume wo Miteita
14. One Step
15. Hey Yeah!  (Sho Sakurai)
16. Hope in the darkness
[bonus track]
17. Take Off!!!!!
lyrics: Sho Sakurai
Bundled Set (¥6250)


Arashi Official website (Johnny's Net)
Arashi Official website (J-Storm)