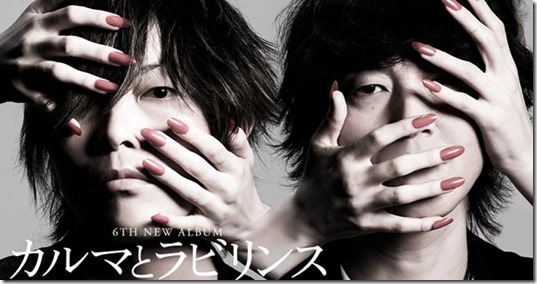 GRANRODEO unveiled more details for their 6th album Karma to Labyrinth (カルマとラビリンス) – jacket covers, full track list, and preview music video for the title song. The album includes 4 singles, new songs, and more for 13 total tracks. Album Karma to Labyrinth comes on two editions hitting stores September 24th 2014 – all the details and PV follow.
The new album includes singles,
– Hengenjizai no Magical Star (21st, OP2 Kuroko's Basketball 2, released 2014.02.03)
– The Other self  (20th, OP1 Kuroko's Basketball 2, released 2013.10.16)
– Henai no Rondo  (19th, OP Karneval, released 2013.04.17)
– DARK SHAME  (18th, OP CODE:BREAKER, released 2012.11.07)
Rock duo GRANRODEO consists of singer/voice actor KISHOW (Taniyama Kisho) and guitarist e-ZUKA (Iizuka Masaaki). All of their single releases have tie-ins with anime or games.
In a separate announcement its revealed that FLOW and GRANRODEO will team up for the ending theme of upcoming anime The Seven Deadly Sins (Nanatsu no Taizai). It's the first ever collaboration for the two rock bands.
Album Karma to Labyrinth comes on two editions. Limited includes DVD with music video and live performances captured during their Magical Rodeo Tour 2014 Men's & Women's Limited Live June 28th & 29th 2014 at Zepp Tokyo.
Selected stores offer special purchase bonus (while supplies last),
Animate: Acoustic CD (2 songs)
Tower Records: charm (ver 1), Tsutaya: charm (ver 2)
Gamers, Toranoana, HMV (Dekoshiru)
Preview music video for title song Karma to Labyrinth after the release details.
GRANRODEO – Karma to Labyrinth – release date September 24th 2014
Limited [CD+DVD] (¥3500)


Regular [CD] (¥3000)


[CD]
1. Blue Pandora Box
2. silence
3. Hengenjizai no Magical Star 
4. Volcano
5. DARK SHAME
6. baby bad boy
7. The Other self
8. Sakura iro dai 2 Button
9. Henai no Rondo 
10. Zetchou Poison
11. Pink Phantom
12. wonder color
13. DAWN GATE
[DVD]
1. Karma to Labyrinth (music video)
2. Magical Rodeo Tour 2014 Men's Limited Live (Zepp Tokyo 2014.06.28)
– OPENING
– Yokubo
– Merry-go-Round 
– NO PLACE LIKE A STAGE
3. Magical Rodeo Tour 2014 Women's Limited Live (Zepp Tokyo 2014.06.29)
– OPENING
– SUPERNOVA
– Y.W.F
– Mesmerize
[CD]
1. Blue Pandora Box
2. silence
3. Hengenjizai no Magical Star 
4. Volcano
5. DARK SHAME
6. baby bad boy
7. The Other self
8. Sakura iro dai 2 Button
9. Henai no Rondo 
10. Zetchou Poison
11. Pink Phantom
12. wonder color
13. DAWN GATE