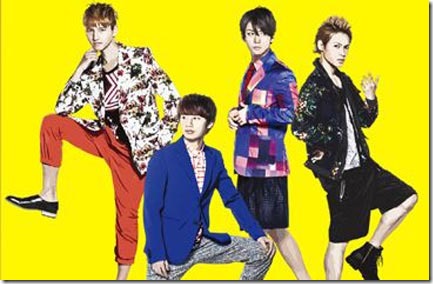 KAT-TUN recently updated the details for their 8th album come Here – jacket covers and full track list unveiled. The album includes singles To The Limit, Fumetsu no Scrum, Expose, and FACE to Face plus new lead song COME HERE and more for 16 total tracks. Album come Here hits stores on June 25th 2014 – more details follow.
Vocal group KAT-TUN just released 22nd single In Fact on June 4th 2014 (not included on album). The single has tie-up as the theme song for Fuji TV drama FIRST CLASS featuring member Yuichi Nakamaru plus main coupling track Believe In Myself is theme song for NTV Going! Sports & News. The single hit #1 on the weekly Oricon charts with over 145,000 copies sold.
The new album is their first since CHAIN released over two years ago on February 22nd 2012 and first since the removal of member Koki Tanaka for contract violations (more details). KAT-TUN continues forward as a 4-member group when they releasing mini-album Kusabi (楔) on November 27th 2013.
Album come Here comes on two editions plus a bundled version. Limited edition includes 40-page lyrics booklet. Regular edition adds two bonus tracks.
KAT-TUN – come Here – release date June 25th 2014
Limited [CD+DVD] (¥3333)


Regular [CD] (¥3100)


[CD]
1. COME HERE
2. TRIANGLE
3. EXPOSE
4. ART OF LIFE – Ueda Tatsuya (solo)
5. Fumetsu no Scrum
6. Crescent – Yuichi Nakamaru (solo)
7. Fake
8. BREAK UR CAGE
9. Emerald – Kazuya Kamenashi (solo)
10. STAR
11. WHENEVER I KISS YOU – Junnosuke Taguchi (solo)
12. SUMMER EMOTION
13. TO THE LIMIT
14. HIDE and SEEK
15. FACE to Face
16. MY EVERY TIME
 
[DVD]
1. COME HERE (music video)
2. making-of music video
[CD]
1. COME HERE
2. TRIANGLE
3. EXPOSE
4. ART OF LIFE – Ueda Tatsuya (solo)
5. Fumetsu no Scrum
6. Crescent – Yuichi Nakamaru (solo)
7. Fake
8. BREAK UR CAGE
9. Emerald – Kazuya Kamenashi (solo)
10. STAR
11. WHENEVER I KISS YOU – Junnosuke Taguchi (solo)
12. SUMMER EMOTION
13. TO THE LIMIT
14. HIDE and SEEK
15. FACE to Face
16. MY EVERY TIME
17. SUNRISE
18. Yasashi ame Ririkku
Bundled Limited + Regular (¥6433)


KAT-TUN Official website (Johnny's net)