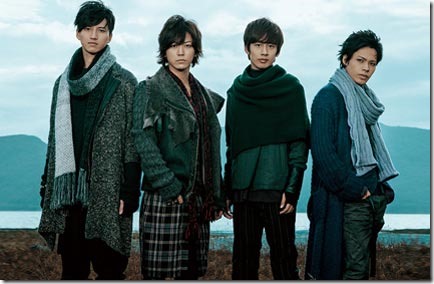 KAT-TUN has updated the details for new single In Fact – jacket covers, full track list, and bonuses revealed. Their 22nd single is featured as the theme song for Fuji TV drama FIRST CLASS featuring member Yuichi Nakamaru. The single's main coupling track Believe In Myself gets tie-up as theme song for NTV Going! Sports & News. Single In Fact comes on three editions hitting stores June 4th 2014 – updated details and trailer video for drama follow.
Its been over a year since KAT-TUN released their 21st single FACE to Face on May 15th 2013. And the first since the announcement of member Koki Tanaka's removal from the group for contract violations (more details). KAT-TUN continues forward as a 4-member group most recently releasing mini-album Kusabi (楔) on November 27th 2013.
Drama FIRST CLASS features member Yuichi Nakamaru and stars Sawajiri Erika (沢尻エリカ) as a fashion magazine editor. The story follows the daily drama of producing the magazine.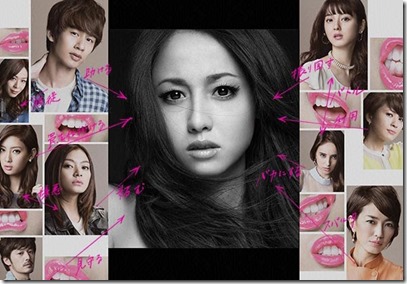 The drama began airing on Fuji TV 11:10pm April 19th 2014 – more details at special website (link below). Episode 05 trailer and series preview videos featuring theme song In Fact below the release details.
Single In Fact comes on three editions plus a bundled version of all three. Limited Pressing edition includes 16-page lyrics booklet. Fans reserving the 3-edition bundle receive a KAT-TUN B2 size poster. Each edition contains a serial code and fans submitting all three codes are entered into a goods lottery for DVD with digest of KAT-TUN 2014 New Year Katsumai event. Entry deadline is June 8th (10,000 winners!).
KAT-TUN – In Fact – release date June 4th 2014
Limited [CD+DVD] (¥1400)


Limited Pressing [CD] (¥1250)


[CD]
1. In Fact
2. Believe In Myself
[DVD]
1. In Fact (music video)
2. making-of music video
[CD]
1. In Fact
2. MY SECRET
3. BLACK
4. DANGEROUS
5. MY SECRET (off vocal)
6. BLACK (off vocal)
7. DANGEROUS (off vocal)
Regular [CD] (¥1143)


Bundled 3 Editions (¥3793)


[CD]
1. In Fact
2. Believe In Myself
3. Birds
4. In Fact (off vocal)
5. Believe in Myself (off vocal)
6. Birds (off vocal)
KAT-TUN Official website (Johnny's net)