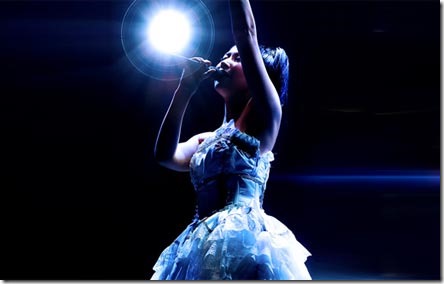 Minori Chihara has announced activities for her 10th anniversary that includes a 3-CD Minori Chihara 10th Anniversary Best album. The album contains her single title songs, lead album songs, and other key songs from her Lantis label releases plus a new 10th Anniversary song. The 3rd CD includes songs based on fan voting via a special website. The Minori Chihara 10th Anniversary Best album is planned for release on September 10th 2014. More details and PV videos follow…
~ album SANCTUARY updated details ~
To kick off her 10th anniversary singer and voice actress Minori Chihara is releasing her 20th single Mukaikaze ni uta Renagara (向かい風に打たれながら) on July 23rd 2014 (more details). The single is featured as the opening theme song for upcoming anime RAIL WARS!.
She's holding live event MINORI CHIHARA LIVE 2014 SUMMER DREAM 2 on August 2nd and 3rd 2014 at Stellar Theater Kawaguchiko.
Fans can vote on their favorite Minori Chihara coupling tracks and album songs from now until June 15th 2014. The songs span from Peace of mind ~ Ningyo no Sasayaki (coupling track 2007 Junpaku Sanctuary 1st single ) to Harmonized Chaos (coupling track 2014 FOOL THE WORLD 19th single). Watch the album preview video and vote now at special website (link below).
These all lead up to a special 10th Anniversary Live event at Nippon Budokan November 18th 2014. Promo video below and more details at special website (link below).
More details on the Minori Chihara Best Album will be updated when announced. Follow Comtrya Sugoi for the latest news.
Minori Chihara – SANCTUARY – release date September 10th 2014
Regular [3CD] (¥3800)


 
[CD1] & [CD2]
Singles, album lead songs
[CD3]
Fan voting coupling tracks and album songs
 
Minori Chihara official website
Minori Chihara 10th Anniversary Voting