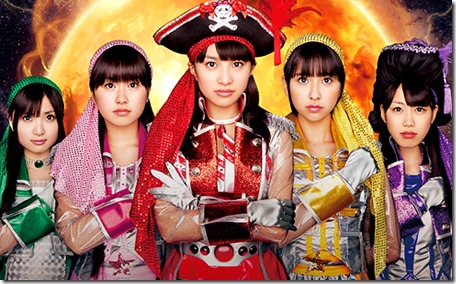 Momoiro Clover Z provides the opening theme for upcoming anime Sailor Moon Crystal with new single MOON PRIDE plus coupling track 月虹 (Gekkou or Tsuki Niji) will be the ending theme. The title song is written and composed by REVO (Sound Horizon). Their 12th single MOON PRIDE comes on two editions scheduled for release on July 30th 2014 – more details and anime preview follow…
~ updated details and audio previews ~
Idol group Momiro Clover Z (Momoclo) most recently released digital single Moretsu Uchu Kokyokyoku Dai 7 Gakusho "Mugen no Ai" (Emperor Style) on June 4th 2014. The song is featured as the opening theme for anime movie Bodacious Space Pirates ABYSS OF HYPERSPACE – Aku no Shien that premiered February 22nd 2014. The song with different arrangement was originally featured in the anime's 2012 TV series.
Previously Momoclo released their 11th single Naitemo Iindayo on May 8th 2014 and it gave the unit their first #1 on the Oricon weekly singles chart.
Collaborating on their new single is composer/performer REVO of Linked Horizon/Sound Horizon who provided opening theme Guren no Yumiya for hit anime Attack on Titan (2013).
Anime Sailor Moon Crystal (Pretty Guardian SAILOR MOON Crystal) is an original story for the classic anime franchise adapted from manga by Takeuchi Naoko and celebrating its 20th anniversary. The story teaser:
"Second-year middle school girl Tsukino Usagi is a little clumsy and a crybaby, but full of energy. She meets Luna, a black cat with a crescent moon on her forehead that transforms her into Sailor Moon, the pretty guardian of love and justice! Tsukino as a chosen guardian of justice has a mission to find the Illusionary Silver Crystal along with the other guardians and to protect the princess."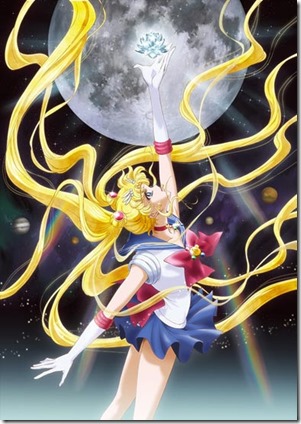 Mitsuishi Kotono (46) renews her roll as Sailor Moon. The anime will air its 26 episodes twice a month beginning July 5th 2014 in Japan. For North America Viz Media has licensed the anime and NicoNico Douga is planned to simulcast stream the anime world-wide. Trailer preview video below the release details.
Single MOON PRIDE comes on two editions (details subject to change). Limited edition will feature anime themed illustrated jacket cover. Regular edition includes additional coupling track.
Jacket covers and bonus details coming!
*note coupling track and ending theme 月虹 pronunciation isn't clear could be either Gekkou (Moonbeam) or Tsuki Niji (Moon Rainbow).
Momoiro Clover Z – MOON PRIDE – release date July 30th 2014
Limited Sailor Moon Edition [CD+BD] (¥1714)


Regular Momoclo Edition [CD] ¥1143)


[CD]
1. MOON PRIDE
lyrics, music: REVO

2. Tsuki Niji (or Gekkou)
lyrics: Shirosobi Sumire, music: Kosaka Akiko

3. MOON PRIDE (off vocal)
4. Tsuki Niji (or Gekkou) (off vocal)
[BD]
1. MOON PRIDE (music video)
2. undecided

[CD]
1. MOON PRIDE
2. Tsuki Niji (or Gekkou)
3. Moon Revenge
lyrics: Fuyumorika Yoko, composer: Kosaka Akiko, arrangement: Hashimoto Yukari

4. MOON PRIDE (off vocal)
5. Tsuki Niji (or Gekkou) (off vocal)
6. Moon Revenge (off vocal)
Momoiro Clover Z Official site
Sailor Moon 20th Anniversary Project Official site