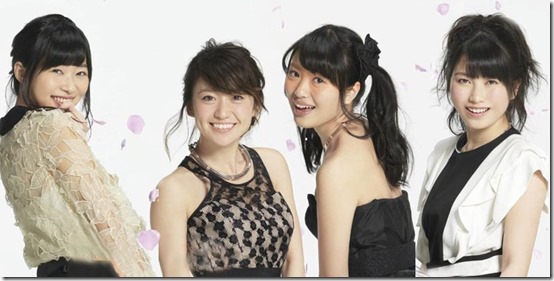 Not yet updated the release details for their 1st album "already" – jacket covers, full track list, and PV revealed. The album includes their five singles, coupling tracks, plus new songs ands more for 30 different tracks spread over three editions. Album "already" releases April 23rd 2014 – updated details and album promo video follow.
The album's Limited and Regular editions all include new song Sekai no Kaze wo Bokura wa Ukete with tie-up as the CM song for Forex online Foreign Exchange trading ads featuring Oshima Yuko.
The Not yet unit features AKB48 members Oshima Yuko, Sashihara Rino, Yokoyama Yui, and Kitahara Rie. They debuted with single Shumatsu Not yet on March 16th 2011. Most recently they released 5th single Hiri Hiri no Hana on September 25th 2013 (more details). 
AKB48 group center and unit member Oshima Yuko (25) during the NHK 2013 New Years Eve singing event Kouhaku uta Gassen, announced her intention to graduate from AKB48 (more details). Her final performances and graduation is set for the March 29th and 30th 2014 at special spring concerts at Kasumigaoka National Stadium.
Not yet's album "already" comes on three editions plus a Playbutton (mp3 player) version. Each edition shares the same main 9 tracks (5 singles plus key coupling tracks) and new song Sekai no Kaze wo Bokura wa Ukete. Each edition has 6 or 7 additional tracks that differ. The Playbutton version only includes the 9 main tracks.
Limited editions, Playbutton, and Regular First Press add a launch event lottery ticket. Additional purchase bonus – original photo – available at most stores and online (varies and while supplies last).
The special live launch event tied to the ticket lottery application flyer is planned for May 10th 2014 at Ariake Colosseum, Ariake Tokyo.
Album promo video and both TVCM spots for Forex featuring Oshima Yuko and song Sekai no Kaze wo Bokura wa Ukete follow below the release details.
Not yet – already – release date April 23rd 2014
Limited A [CD+DVD] (¥3333)

Limited B [CD+DVD] (¥3333)

[CD]
1. Shumatsu Not yet
2. Naminori Kakigori
3. Pera Pera Perao
4. Sukia BABY
5. Hiri Hiri no Hana
6. Hira Hira
7. Hagu Tomo
8. Uminari yo
9. Tsugi no Pierce
10. Mikata
11. Moto Kare ga Kekkon Suru Toki
12. Kibo no Hana
13. Bakuhatsu Professor
14. guilty love
15. May (Yokoyama Yui solo)
16. Sekai no Kaze wo Bokura wa Ukete (new)
17. Already (new)
[DVD]
1. Sekai no Kaze wo Bokura wa Ukete (music video) 2. Not yet ni yoru, Not yet tekina, Not yet no koko gai
3. Not yet interview ~ Sorezore no Omoi ~
4. Hiri Hiri no Hana premium event footage
[CD]
1. Shumatsu Not yet
2. Naminori Kakigori
3. Pera Pera Perao
4. Sukia BABY
5. Hiri Hiri no Hana
6. Hira Hira
7. Hagu Tomo
8. Uminari yo
9. Tsugi no Pierce
10. Fumouna Yoru
11. Warauga
12. Girisha no Kamotsusen
13. Moshimo, Tewotsunaide Itara
14. Mienai Sora wa Itsu Demo Aoi by Yokoyama Yui with friends (from AKB48)
15. Bokutachi no Offshore
16. Sekai no Kaze wo Bokura wa Ukete (new)
17. Are kara Earl Grey wo nonde inai (new)
[DVD]
1. Sekai no Kaze wo Bokura wa Ukete (music video) 2. Sekai no Kaze wo Bokura wa Ukete (making-of)
3. Not yet live performance archives 2011-2012
Regular [CD] (¥2407)

Playbutton (¥1944)


[CD]
1. Shumatsu Not yet
2. Naminori Kakigori
3. Pera Pera Perao
4. Sukia BABY
5. Hiri Hiri no Hana
6. Hira Hira
7. Hagu Tomo
8. Uminari yo
9. Tsugi no Pierce
10. Sunao ni Naritai
11. Kazaguruma ga Mieru Machi
12. Sasayakana Boku no Teikou
13. Vermeer no Tegami
14. Nakinagara Hohoende (Not yet ver.)
15. Aisarerutoiu Koto (Not yet ver.)
16. Sekai no Kaze wo Bokura wa Ukete (new)
[CD]
1. Shumatsu Not yet
2. Naminori Kakigori
3. Pera Pera Perao
4. Sukia BABY
5. Hiri Hiri no Hana
6. Hira Hira
7. Hagu Tomo
8. Uminari yo
9. Tsugi no Pierce
Not yet Official website (Columbia Records Japan)