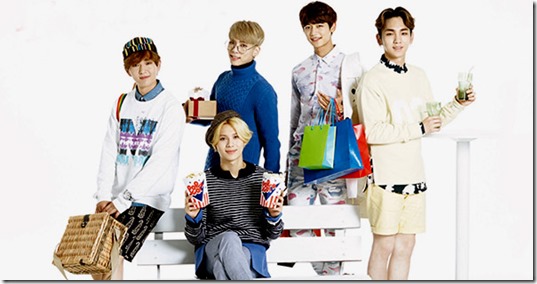 SHINee announced their 3rd Japanese album I'm Your Boy planned to include singles BOYS MEET U, 3 2 1, and LUCKY STAR plus new songs for 12 total tracks. Album I'm Your Boy comes on three editions scheduled for release on September 24th 2014 – more details and members album announcement video follow…
~ track list and PV revealed ~
Korean group SHINee most recently released their 10th Japanese single LUCKY STAR on June 25th 2014. The song was the featured theme during June for NTV's Music Dragon and fans showed their support pushing it to #3 on the weekly Oricon charts. They released their 2nd Japanese album Boys Meet U  a little over a year ago on June 26th 2014.
The group is also getting ready for a national tour of Japan, SHINee WORLD 2014 ~ I'm Your Boy ~, now with an expanded schedule of 30 performances starting September 28th 2014 at Ichihara Civic Hall Chiba. They'll have 5 performances (Nov 26th, 27th, Dec 2nd, 3rd, 4th 2014) at Yoyogi National Stadium First Gymnasium Tokyo. The tour now is planned to finish December 13th & 14th 2014 with a pair of performances at Kobe World Memorial Hall. More details and ticket information at their official website (link below).
Album I'm Your Boy comes on three editions (details subject to change). Limited editions include 48-page photo booklet (type A & B differ). Bonus trading card (1 of 6) included with the Limited and First Press Regular editions.
Full track list and more details coming. Member's comments during the jacket cover photo shoot plus preview music videos for Boys Meet U, 3 2 1, and LUCKY STAR after the release details.
SHINee – I'm Your Boy – release date September 24th 2014
Limited A [CD+DVD+photo book] (¥4800)


Limited B [CD+DVD+photo book] (¥4800)


[CD]
1. Boys Meet U
2. 3 2 1
3. LUCKY STAR
4. – 12. undecided
[DVD]
1. Boys Meet U (music video)
2. 3 2 1 (music video)
3. LUCKY STAR (music video)
4. undecided new song (music video)
5. Boys Meet U Special Showcase Live (documentary movie)
[CD]
1. Boys Meet U
2. 3 2 1
3. LUCKY STAR
4. – 12. undecided
[DVD]
1. Boys Meet U (music video)
2. 3 2 1 (music video)
3. LUCKY STAR (music video)
4. album covers photo shoot
5. special members interview
Regular [CD] (¥2800)


 
[CD]
1. Boys Meet U
2. 3 2 1
3. LUCKY STAR
4. – 12. undecided