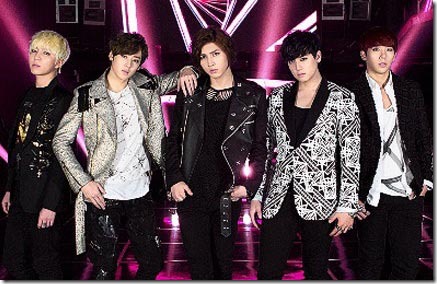 U-KISS new Japanese single Break up is getting ready for release. Its their 8th Japanese single and jacket covers, full track list, and audio teaser have been unveiled. The single features a 5-member U-KISS while AJ is on temporary leave to return to studies at Columbia University (USA). Single Break up comes on three editions originally scheduled for release on February 19th, now set for release on February 26th 2014. Read on for more details and preview.
Most recently the Korean vocal group U-KISS released their 7th Japanese single Fall in Love / Shape of Your Heart on December 18th 2013. The double a-side single was their first in nearly a year since ALONE (2013.02.13) and also the first since member DongHo announced he would leave the group on October 16th 2013 due to personal and health reasons. U-KISS continues as a 6 member unit.
The group has upcoming special two part live event U-KISS Sweet Valentine Event 2014 ~LOVE+ U KISS ME~ upcoming. More details at their website (link below),
– Feb 16th 2014 1:00pm & 5:00pm Pacifico National Convention All Yokohama
Their new single First Press editions come with an event ticket (one type A or two type B tickets required) currently listed as a hand-shake event and mini-live at Tokyo Dome City Garden Stage for 12:00pm February 22nd 2014 which is now before the revised release date. Check their website for updated information.
U-KISS new single Break up comes on three editions,
– Limited with DVD that includes music video for title track. First Press version adds bonus DVD track for making-of the music video and event participation ticket A
– Regular CD-only. First Press version adds bonus CD track of live version Fall in Love recorded during their U-KISS Fan Club Event 2013 plus the event participation ticket B
– Fan club and event edition CD-only with different jacket cover.
U-KISS – Break up – release date February 19th 2014
Limited [CD+DVD] (¥1890)


Regular [CD] (¥1050)


[CD]
1. Break up
(preview)

2. Standing Still ~ Japanese version ~
3. Break up (off vocal)
4. Standing Still (off vocal)
[DVD]
1. Break up (music video)
2. Break up (making-of) (First Press only)

[CD]
1. Break up
2. Standing Still ~ Japanese version ~
3. Fall in Love (U-KISS Fan Club Event 2013 ver.) (First Press only)
4. Break up (off vocal)
5. Standing Still (off vocal)
mu-mo Fan Club / Event [CD] (¥1050)

[CD]
1. Break up
2. Standing Still ~ Japanese version ~
3. Break up (off vocal)
4. Standing Still (off vocal)
U-KISS Official website (Japan)