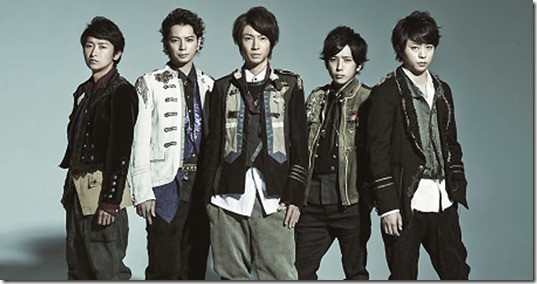 Arashi (嵐) unveiled the details for their first single of 2015 – Sakura – an edgy high tension dance tune. The song's featured as the main theme for TBS drama Ouroboros ~ Kono Ai Koso, Seigi starring Ikuta Toma and Oguri Shun. Single Sakura comes on two editions scheduled for release on February 25th 2015. Read on for more details and drama promo video.
Arashi most recently released their 13th original album THE DIGITALIAN on October 22nd 2014. The album features singles, member solo songs, and eight new songs. THE DIGITALIAN landed at #1 on the weekly Oricon charts and #3 on the 2014 annual charts selling 784,933 copies. (Interestingly their 2013 12th original album LOVE topped the 2013 annual charts selling a near identical 784,792).
Drama  Ouroboros ~ Kono Ai Koso, Seigi  (ウロボロス~この愛こそ、正義) is adapted from popular manga by Kanzaki Yuya. The story follows orphans Ryuzaki Ikuo and Tatsuya Dan that have the most important person to them murdered. The incident goes unsolved and fifteen years later both are grown following different paths to uncover the truth – Ikuo has become a police officer and Tatsuya has become the leader of a yakuza crew.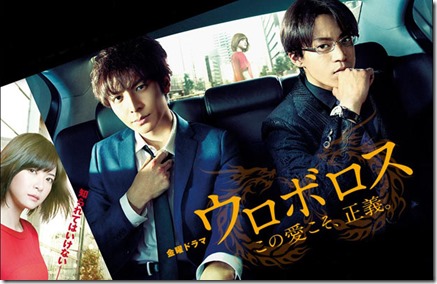 The drama starts January 16th 2015 10:00pm on TBS TV.
Single Sakura comes on two editions and most stores offer a bundled set of both editions (details subject to change). Limited and Regular editions include different coupling tracks.
Full track list, jacket covers, and more details coming. Promo video for Ouroboros after the release details.
Arashi – Sakura – release date February 25th 2015
Limited [CD+DVD] (¥1400)


Regular [CD] (¥1143)


[CD]
1. Sakura
2. undecided A
3. undecided A (off vocal)
[DVD]
1. Sakura (music video)
[CD]
1. Sakura
2. undecided B
3. undecided C
4. Sakura (off vocal)
5. undecided B (off vocal)
6. undecided C (off vocal)
Bundle Set (¥2543)




 
 
 
Arashi Official website (Johnny's Net)
Arashi Official website (J-Storm)