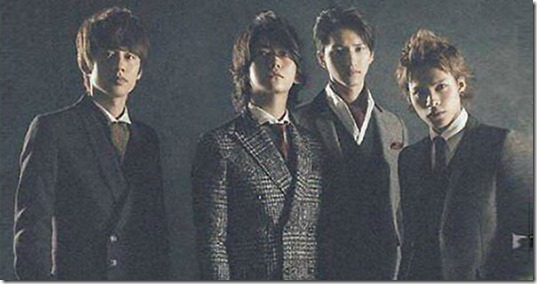 KAT-TUN announced new single KISS KISS KISS – a passionate Latin Pop tune. Their 24th single gets tie-up as theme song for TV Asahi adult-love drama Second Love staring member Kazuya Kamenashi. Single KISS KISS KISS comes on three editions scheduled for release on March 11th 2015. More details follow.
~ jacket covers and more revealed ~
Most recently KAT-TUN released chart topping 23rd single Dead or Alive on January 21st 2015. The single has tie-up as theme song for movie JOKER GAME.
Drama Second Kiss begins airing February 6th 2015 late-night on TV Asahi. The story follows Taira Kei (Kazuya Kamenashi) who has returned to Tokyo after studying abroad in Germany. A young prodigy of contemporary dance winning several international competitions he as begun to stagnate. He struggles with his future while working part-time in Tokyo. Nishihara Yui (Fukada Kyoko) a Chemistry teacher in her 30s is lonely even while having an affair with a married colleague. Kei and Yui meet and begin a passionate love.
Single KISS KISS KISS comes on three editions and most stores offer a special 3-edition bundle (details subject to change). Track list differs on each edition and First Press versions include poster that differs with each edition.
Full track list and jacket covers coming!
KAT-TUN – KISS KISS KISS – release date March 11th 2015
Limited A [CD+DVD] (¥1300)


Limited B [CD+DVD] (¥1650)


[CD]
1. KISS KISS KISS
2. untitled A
3. untitled A (off vocal) 
[DVD]
1. KISS KISS KISS (music video)
2. making-of music video footage
[CD]
1. KISS KISS KISS
2. untitled B
3. untitled C (Yuichi Nakamaru, Junnosuke Taguchi)
4. untitled D (Kazuya Kamenashi, Ueda Tatsuya)
5. untitled B (off vocal) 
[DVD]
1. original content undecided
Regular [CD] (¥1000)


Bundled 3 set (¥ 3950)


[CD]
1. KISS KISS KISS
2. untitled E
3. untitled F
4. KISS KISS KISS (off vocal)
5. untitled E (off vocal)
6. untitled F (off vocal)
 
KAT-TUN Official website (Johnny's net)