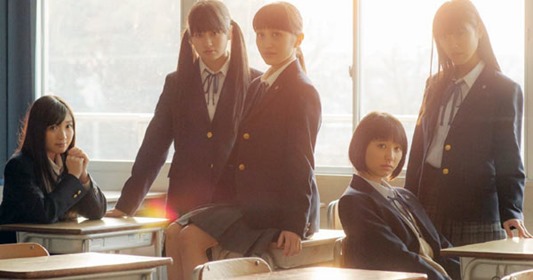 Momoiro Clover Z (ももいろクローバーZ) is getting ready to release single Seishunfu (青春賦) featured as the theme for their staring movie Maku ga Agaru (幕が上がる). They revealed a movie trailer music video with previews for the four songs included in the movie and on the new single. Their 14th Single Seishunfu comes on three editions hitting stores March 11th 2015. Release details, movie trailer, and preview music video all follow.
Popular idol unit Momoiro Clover Z (Momoclo) is releasing three consecutive singles to start of 2015. The first, a special Momoiro Clover Z vs KISS collaboration single Yume no Ukiuyo ni Saitemina (夢の浮世に咲いてみな) just released on January 28th 2015 (more details).
For the 3rd release of their consecutive release plan Momoclo announced they'll provided the theme song "Z" no Chikai ('Z'の誓い) for upcoming anime movie Dragon Ball Z Revival 'F'. The movie premieres in Japan on April 18th 2015.
A special bonus for fans purchasing each of the 3 singles – awards drawing and lottery to attend a special 3 SINGLES PROJECT LIVE planned for fall 2015. More details a special 3 Singles Project website (link below).
Movie Maku ga Agaru (The Curtain Rises),  adapted from novel by Oriza Hirata, follows an uninspired local high school drama club. A new teacher comes to the school and challenges the club, that hasn't even won a district tournament, to try nationwide – take the whole country.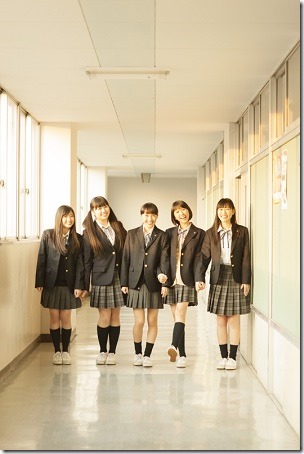 The movie premieres February 28th 2015 in Toho and affiliated theaters across Japan. A stage play is planned for May 2015 with all the movie's cast members.
Single Seishunfu comes on three editions. Limited editions have different coupling tracks featured as insert songs in the movie plus 20-page photo booklet and slipcover case. Regular includes all 3 insert songs. Each edition includes application flyer in conjunction with the 3-singles project.
Song/movie trailer preview videos after the release details.
Momoiro Clover Z – Seishunfu (青春賦) – release date March 11th 2015
Limited A [CD+BD] (¥1852)



Limited B [CD+BD] (¥1852)



[CD]
1. Seishunfu
2. Hashire! Z ver.
3. Yuku Haru Kuru Haru
4. Seishunfu (off vocal)
5. Hashire! Z ver. (off vocal)
6. Yuku Haru Kuru Haru (off vocal)
[BD]
1. Seishunfu (music video)
[CD]
1. Seishunfu
2. Hashire! Z ver.
3. Link Link
4. Seishunfu (off vocal)
5. Hashire! Z ver. (off vocal)
6. Link Link (off vocal)
[BD]
1. Hashire! Z ver. (music video)
Regular [CD] (¥1389)


 
[CD]
1. Seishunfu
2. Hashire! Z ver.
3. Yuku Haru Kuru Haru
4. Link Link
5. Seishunfu (off vocal)
6. Hashire! Z ver. (off vocal)
7. Yuku Haru Kuru Haru (off vocal)
8. Link Link (off vocal)
 
Momoiro Clover Z Official site