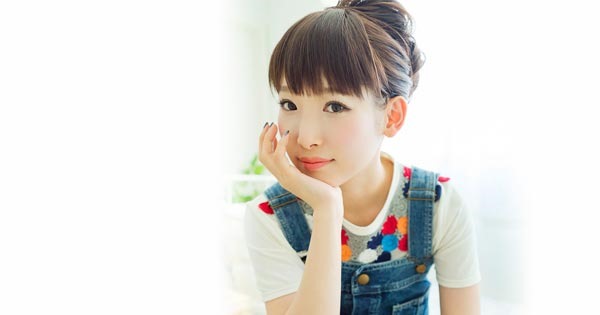 Nanjō Yoshino (南條愛乃) is getting ready to release album Tokyo 1/3650 (東京 1/3650) and unveiled audio previews plus new promo video. Her 1st solo album includes her four singles plus nine coupling tracks/new songs with lyrics written by Nanjō Yoshino. Album Tokyo 1/3650 comes on three editions releasing July 22nd 2015.
Voice actor, songwriter, and singer Nanjō Yoshino (30) forms one half of unit fripSide (since 2009) providing the vocals for producer and sound creator Satoshi Yaginuma. The unit released 9th single Luminize with tie-up as opening theme for ongoing anime Future Card Buddyfight 100 on May 20th 2015 (more details).
Additionally she has participated on numerous anime singles and OP/ED songs in character voice including being one part of fictional idol group μ's (Muse) and voicing character Ayase Eli for the anime/game franchise Love Live! School Idol Project.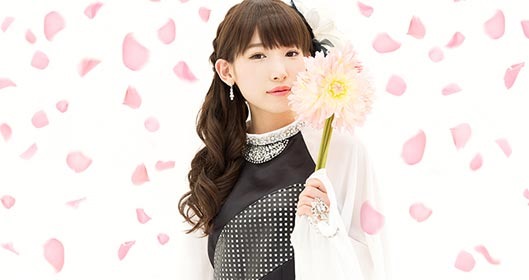 Most recently she released 4th single Kimi wo Sagashi ni (きみを探しに) with tie-up as ED2 for anime The Eden of Grisaia on June 10th 2015. She also released 3rd single Tasogare no Starlight (黄昏のスタアライト) with tie-up as ED1 for the anime on April 29th 2015.
Album Tokyo 1/3650 comes on three editions. The Limited editions include 3 x Blu-ray or 3 x DVD that contain her Birthday Eve Acoustic Live Event captured July 11th 2014 at Shibuya duo Music Exchange and episodes of the Nanjō-Ikken show.
Limited editions also include bonus deluxe sleeve case, 32-page photo booklet and solo live early ticket application. Regular First Press includes solo live early ticket application.
Selected stores offer bonus – animate: ticket holder, Gamers: clear file, HMV: photo, and more – check your store for type and availability. Most stores offer b3-size poster on either edition while supplies last.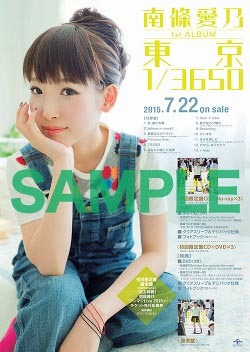 Audio previews below and new album TVCM spot after the release details.
Nanjō Yoshino – Tokyo 1/3650 – release date July 22nd 2015
Limited [CD+3BD] (¥5800)


Limited [CD+3DVD] (¥4200)


[CD]
1. Yo, Shizukana Yume
lyrics: Nanjo Yoshino, music Toda Akiyo

2. believe in myself
lyrics: Nanjo Yoshino, music:Masutani Ken, Toda Akiyo
(preview)

3. Tasogare no Starlight
lyrics: Kuwashima Yuichi, music: Fujima Hitoshi

4. Precious time
lyrics: Nanjo Yoshino, composer: rino, arranger: Osada Naoyuki
(preview)

5. July 25th
lyrics: Nanjo Yoshino, music: Toda Akiyo

6. Anata no Aishita Sekai
lyrics: Kuwashima Yuichi, music: Fujima Hitoshi

7. Dear x Dear
lyrics: Nanjo Yoshino, composer: yozuca* arranger:Osada Naoyuki

8. Kimi ga Emu Yugure (Tokyo Ravens ED)
lyrics: KOTOKO, music: Iuchi Maiko

9. Recording
lyrics: Nanjo Yoshino, music: Iuchi Maiko

10. Daisuki
lyrics: Nanjo Yoshino, composer: yozuca*, arranger: lotta

11. Kimi wo Sagashi ni
lyrics: Kuwashima Yuichi, music: Fujima Hitoshi

12. Dakara, Arigato
lyrics: Nanjo Yoshino, music: Shihori

13. +1day
lyrics: Nanjo Yoshino, music: Masutani Ken

[BDx3]
1. Nanjo Yoshino Birthday Eve Acoustic Live Event July 11th 2014 at Shibuya duo Music Exchange
2. 1 – 29 episodes Nanjō-Ikken show

[CD]
1. Yo, Shizukana Yume
2. believe in myself
3. Tasogare no Starlight
4. Precious time
5. July 25th
6. Anata no Aishita Sekai
7. Dear x Dear
8. Kimi ga Emu Yugure
9. Recording
10. Daisuki
11. Kimi wo Sagashi ni
12. Dakara, Arigato
13. +1day

[DVDx3]
1. Nanjo Yoshino Birthday Eve Acoustic Live Event July 11th 2014 at Shibuya duo Music Exchange
2. Nanjō-Ikken show – 17 episodes selected by Nanjō Yoshino (1-4, 6, 8, 10, 15, 17, 18, 22, 24-29) 

Regular [CD] (¥3000)


 
[CD]
1. Yo, Shizukana Yume
2. believe in myself
3. Tasogare no Starlight
4. Precious time
5. July 25th
6. Anata no ai Shita Sekai
7. Dear x Dear
8. Kimi ga Emu Yugure (Tokyo Ravens ED)
9. Recording
10. Daisuki
11. Kimi wo Sagashi ni
12. Dakara, Arigato
13. +1day