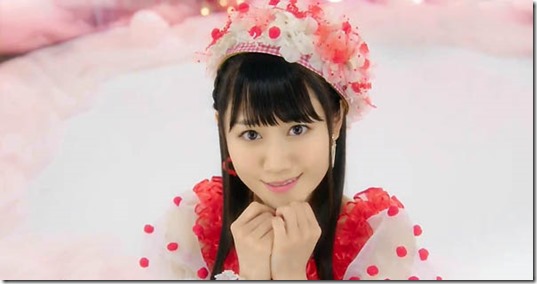 Ogura Yui (小倉唯) unveiled preview music video for new song Happy Strawberry included on her upcoming album Strawberry JAM. Also revealed an audio preview for new song Sing-a-ling-a-Harmony. Her 1st album includes singles plus new songs for 12 total tracks. Album Strawberry JAM comes on three editions releasing March 25th 2015.  Read on for all the details and song previews.
Singer and voice actor Ogura Yui (19) has released four solo singles, all with anime tie-ups and included on her 1st album,
– Raise (1st sgl, 2012.07.18) ED Campione! 
– Baby Sweet Berry Love (2nd sgl, 2013.05.08) ED Hentai Prince and the Stony Cat 
– Charming Do! (3rd sgl, 2014.01.29) ED Recently, My Sister is Unusual 
– Tinkling Smile (4th sgl, 2014.08.13) ED Encouragement of Climb season 2
Her first solo live event Ogura Yui 1st LIVE HAPPY JAM has early ticket lottery application included with Limited editions of her new album. Two performances: July 5th 2015 1:00pm & 5:00pm Pacifico National Convention Hall Yokohama
Selected stores provide a participation ticket to purchasers of the new album for release events (mini-live, talk, and poster distribution),
– March 25th 7:00pm 2015 animate Shinjuku. Target store animate (entry deadline March 13th).
– March 29th 11:00am, 1:00pm, 3:00pm 2015 location TBA (Tokyo). Target stores Gamers and Toranoana.
Ogura Yui is also on part of idol unit YUIKAORI (ゆいかおり) along with Ishihara Kaori (石原夏織). They recently released 10th single NEO SIGNALIFE on January 7th 2015. (Note: both are former members of performance unit StylipS).
Album Strawberry JAM comes on three editions. Limited First Press editions include mini-photo book (type A, B differ), slip-case, and application flyer for early ticket lottery for the Ogura Yui 1st LIVE HAPPY JAM. Each edition also includes purchase bonus while supplies last and varies by store (poster, clear file, photo, others),
Preview music video for Happy Strawberry plus audio-only videos for Sing-a-ling-a-Harmony and A Lovely Tea Break all after the release details.
Ogura Yui – Strawberry JAM – release date March 25th 2015
Limited A [CD+BD] (¥3700)


Limited B [CD+DVD] (¥3700)


[CD]
1. FUN FUN MERRY JAM
2. Chaming Do!
3. Itsu datte Call Me!
4. A Lovely Tea Break
5. PON de Fighting!
6. Get over
7. Raise (album ver.)
8. Sugar Heartache
9. Tinkling Smile
10. Happy Strawberry
(preview)

11. Baby Sweet Berry Love
12. Sing-a-ling-a-Harmony
[BD]
1. Happy Strawberry (music video)
2. Raise (music video)
3. Baby Sweet Berry Love (music video)
4. Charming Do! (music video)
5. Tinkling Smile (music video)
6. Strawberry JAM making-of documentary

[CD]
1. FUN FUN MERRY JAM
2. Chaming Do!
3. Itsu datte Call Me!
4. A Lovely Tea Break
5. PON de Fighting!
6. Get over
7. Raise (album ver.)
8. Sugar Heartache
9. Tinkling Smile
10. Happy Strawberry
11. Baby Sweet Berry Love
12. Sing-a-ling-a-Harmony
[DVD]
1. Happy Strawberry (music video)
2. Raise (music video)
3. Baby Sweet Berry Love (music video)
4. Charming Do! (music video)
5. Tinkling Smile (music video)
6. Strawberry JAM making-of documentary
Regular [CD] (¥2800)


[CD]
1. FUN FUN MERRY JAM
2. Chaming Do!
3. Itsu datte Call Me!
4. A Lovely Tea Break
5. PON de Fighting!
6. Get over
7. Raise (album ver.)
8. Sugar Heartache
9. Tinkling Smile
10. Happy Strawberry
11. Baby Sweet Berry Love
12. Sing-a-ling-a-Harmony