Perfume revealed details for new double a-side single Relax In The City / Pick Me Up. Title track Relax In The City has tie-up as theme song for TVCM Sapporo Green Aroma plus group members appear in the TV spots. Their 21st single comes on two editions set for release on April 29th 2015. Read on for release details and single teaser promotional video.
Popular electro-pop unit Perfume most recently released 20th single Cling Cling on July 16th 2014. The single's title track has tie-up as the CM song for 2014 Chocola BB plus coupling track Hold Your Hand has tie-up as theme song for NHK drama Silent Poor. It also includes coupling song DISPLAY has tie-up with Panasonic VIERA 4K with a full 2160p 4K resolution music video for DISPLAY is available at the Panasonic VIERA 4K Youtube channel (more details).
Their new single's title song Relax In The City has tie-up with Sapporo Green Aroma TVCM campaign,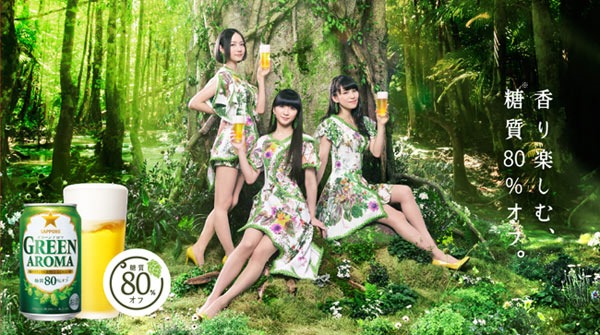 Fans in the USA can see Perfume at SXSW 2015 annual music, film, and event conference in Austin Texas. Perfume will perform March 17th 2015 1:00am at the Highland venue. Event ticket information.
Single Relax In The City / Pick Me Up comes on two editions (details subject to change). Special Limited includes 40-page photo booklet and special cube packaging that features 6 jacket cover images (can be folded back to normal size packaging). Limited edition includes 16-page photo booklet and sleeve case. Additional purchase bonus (details coming).
Single promo video after release details.
Perfume – Relax In The City / Pick Me Up – release date April 29th 2015
Special Limited [CD+DVD] (¥2407)



Limited [CD+DVD] (¥1759)


[CD]
1. Relax In The City
2. Pick Me Up
3. Toumeu Ningen
4. Relax In The City (off vocal)
5. Pick Me Up (off vocal)
6. Toumeu Ningen (off vocal)
[DVD]
1. Relax In The City (music video)
2. Relax In The City (TV-size)
2. Pick Me Up (music video)
[CD]
1. Relax In The City
2. Pick Me Up
3. Toumeu Ningen
4. Relax In The City (off vocal)
5. Pick Me Up (off vocal)
6. Toumeu Ningen (off vocal)
[DVD]
1. Relax In The City (music video)
2. Relax In The City (TV-size)
2. Pick Me Up (music video)