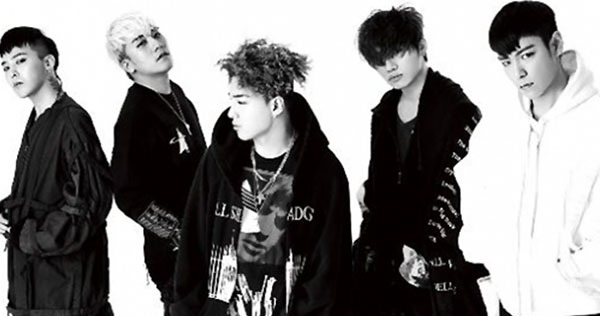 BIGBANG updated the details for new Japanese album MADE SERIES -  full track list, jacket covers, and preview music videos unveiled. The popular Korean group hasn't had a Japanese release since 2012 though the group has been active with a major Japanese dome tours each year. Album MADE SERIES comes on six editions hitting stores February 3rd 2016.
In Japan the full group hasn't had a release but members D-LITE, SOL, and G-DRAGON made solo releases in Japan.
In Korean BIGBANG also did not have a release for three years when they announced a four singles album "MADE" series in April 2015. Each of the four releases contains two new songs. The 4th MADE Series "E" released August 5th 2015. The Japanese album MADE SERIES contains all 8 MADE Series Korean songs plus special Japanese versions.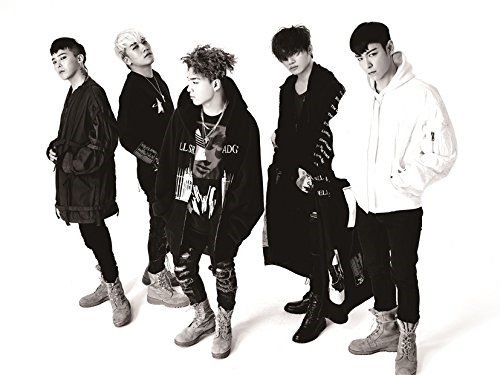 Album MADE SERIES comes on six editions. Limited Deluxe editions with 3x Blu-ray or 3x DVD includes deluxe photo book also. All editions include Sumapura access app so album contents can be listened to/viewed on smartphone (optimized for Japan services). First Press on all editions add serial code for benefits and store bonus b2-size reversible poster (while supplies last).
Preview music videos for BANG BANG BANG (Japanese ver.) and LOSER (Japanese ver.) plus album 90-sec CM spot all after the release details.
*listed tracks are Korean versions unless otherwise noted.
BIGBANG – MADE SERIES – release date February 3rd 2016
Limited Deluxe [CD+3Blu-ray] (¥9300)


Limited Deluxe [CD+3DVD] (¥8800)


[CD]
1. LOSER (Japanese ver.)
2. BANG BANG BANG (Japanese ver.)
3. IF YOU (Japanese ver.)
4. LOSER
5. BAE BAE
6. BANG BANG BANG
7. WE LIKE 2 PARTY        
8. IF YOU
9. SOBER
10. Lets not fall in love
11. ZUTTER (GD & T.O.P)

[BD1] 
1. LOSER (music video)
2. BANG BANG BANG (music video)
3. Music videos (Korean versions)         
– LOSER
– BAE BAE
– BANG BANG BANG
– WE LIKE 2 PARTY
– SOBER
– ZUTTER (GD & T.O.P)
– Lets not fall in love
4. Music video dance practice and making-of documentaries
5. a-nation stadium fes. 2015 (60min, 12+ live performances)

[BD2]
Japan Dome Tour 2014-2015 "X" final at Kyocera Dome Osaka

[BD3]
NAVER V Special Programs
– G-DRAGON
– SOL
– T.O.P
– V.I
– D-LITE

[CD]
1. LOSER (Japanese ver.)
2. BANG BANG BANG (Japanese ver.)
3. IF YOU (Japanese ver.)
4. LOSER
5. BAE BAE
6. BANG BANG BANG
7. WE LIKE 2 PARTY        
8. IF YOU
9. SOBER
10. Lets not fall in love
11. ZUTTER (GD & T.O.P)

[DVD1] 
1. LOSER (music video)
2. BANG BANG BANG (music video)
3. Music videos (Korean versions)         
– LOSER
– BAE BAE
– BANG BANG BANG
– WE LIKE 2 PARTY
– SOBER
– ZUTTER (GD & T.O.P)
– Lets not fall in love
4. Music video dance practice and making-of documentaries
5. a-nation stadium fes. 2015 (60min, 12+ live performances)

[DVD2]
Japan Dome Tour 2014-2015 "X" final at Kyocera Dome Osaka

[DVD3]
NAVER V Special Programs
– G-DRAGON
– SOL
– T.O.P
– V.I
– D-LITE

Limited [CD+Blu-ray] (¥4700)


Limited [CD+DVD] (¥4200)


[CD]
1. LOSER (Japanese ver.)
2. BANG BANG BANG (Japanese ver.)
3. IF YOU (Japanese ver.)
4. LOSER
5. BAE BAE
6. BANG BANG BANG
7. WE LIKE 2 PARTY        
8. IF YOU
9. SOBER
10. Lets not fall in love
11. ZUTTER (GD & T.O.P)

[BD1] 
1. LOSER (music video)
2. BANG BANG BANG (music video)
3. Music videos (Korean versions)         
– LOSER
– BAE BAE
– BANG BANG BANG
– WE LIKE 2 PARTY
– SOBER
– ZUTTER (GD & T.O.P)
– Lets not fall in love
4. Music video dance practice and making-of documentaries
5. a-nation stadium fes. 2015 (60min, 12+ live performances)

[CD]
1. LOSER (Japanese ver.)
2. BANG BANG BANG (Japanese ver.)
3. IF YOU (Japanese ver.)
4. LOSER
5. BAE BAE
6. BANG BANG BANG
7. WE LIKE 2 PARTY        
8. IF YOU
9. SOBER
10. Lets not fall in love
11. ZUTTER (GD & T.O.P)

[BD1] 
1. LOSER (music video)
2. BANG BANG BANG (music video)
3. Music videos (Korean versions)         
– LOSER
– BAE BAE
– BANG BANG BANG
– WE LIKE 2 PARTY
– SOBER
– ZUTTER (GD & T.O.P)
– Lets not fall in love
4. Music video dance practice and making-of documentaries
5. a-nation stadium fes. 2015 (60min, 12+ live performances)

Regular [CD] (¥2600)


PlayButton [Digital] (¥2400)


[CD]
1. LOSER (Japanese ver.)
2. BANG BANG BANG (Japanese ver.)
3. IF YOU (Japanese ver.)
4. LOSER
5. BAE BAE
6. BANG BANG BANG
7. WE LIKE 2 PARTY        
8. IF YOU
9. SOBER
10. Lets not fall in love
11. ZUTTER (GD & T.O.P)
[CD]
1. LOSER (Japanese ver.)
2. BANG BANG BANG (Japanese ver.)
3. IF YOU (Japanese ver.)
4. LOSER
5. BAE BAE
6. BANG BANG BANG
7. WE LIKE 2 PARTY        
8. IF YOU
9. SOBER
10. Lets not fall in love
11. ZUTTER (GD & T.O.P)
Let's not fall in love (Korean)