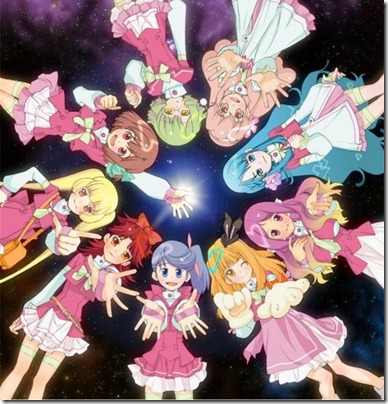 AKB0048 has announced a second round of main cast members of the "Shuumei" group – Noto Mamiko has the role of Koji Haru (Kojima Haruna) , Ueda Kana has the role of Tomo-chin (Tomomi Itano) and Shiraishi Ryoko will play Taka Mina (Minami Takahashi). Details follow,
The Shuumei members or legacy members in the anime have risen up and assumed the name of the legendary group "AKB48" as they take up the fight against a evil regime controlling a post-apocalyptic future Earth. The members are drawn and take the nicknames matching current AKB48 members.
AKB0048 will begin airing at end of April on a number of satellite stations in Japan (first airing – 4/29 11pm TVK). No information yet on streaming simulcast at Nico Nico or Crunchyroll.
Characters Koji Haru, Tomo-chin, and Taka Mina (click to enlarge)
Previous post details the first 3 Shuumei cast members announced is [here]