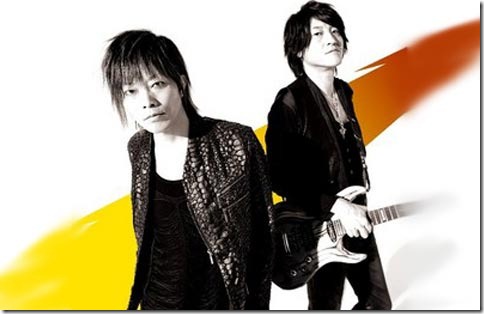 GRANRODEO has updated the release details for new single "DARK SHAME" – cover jackets, full tracklist, and preview music video are revealed. The group's 18th single is featured as the opening theme for anime CODE:BREAKER. The single comes in two editions and is set for release on November 7th – read on for the updated release details and preview video.
GRANRODEO just released their 5th album "CRACK STAR FLASH" on October 10th (more details). Fans showed their support and pushed the album to the 3rd spot on the Oricon weekly charts!
GRANRODEO consists of singer/voice actor KISHOW (Taniyama Kisho) and guitarist e-ZUKA (Iizuka Masaaki). Many of their single releases have tie-ins with anime or games. Their 16th single "Can Do" was featured as the first opening theme for anime Kuroko's Basketball and their 17th single "RIMFIRE" (release details) is currently featured as the second opening theme for anime Kuroko's Basketball.
Anime CODE:BREAKER is adapted from manga by Kamijyo Akimine and follows the story of Rei Ogami who is a special type of assassin, the sixth Code:Breaker. Rei is also a high school student who just transferred to a new school. Another student, Sakura Sakurakoji, while on her way to school witnesses people being burned by a strange blue flame and shocked to see a boy about her age standing over them unharmed. She later learns the boy is Rei and he's just transferred into her High School class!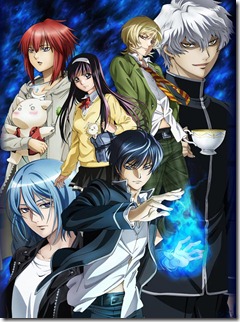 The anime began airing October 6th on MBS and Tokyo MX in Japan and streams over at Funimation.com for North America starting October 10th.
Single "DARK SHAME" comes on two editions. The Limited has two covers (front/back).
GRANRODEO – "DARK SHAME" – release date November 7th 2012
Limited [CD+DVD] (¥1800)


Regular [CD] (¥1200)


[CD]
1. DARK SHAME
2. Brand New DAY
3. DARK SHAME (off vocal)
4. Brand New DAY (off vocal)
[DVD]
1. DARK SHAME (music video)
[CD]
1. DARK SHAME
2. Brand New DAY
3. DARK SHAME (off vocal)
4. Brand New DAY (off vocal)