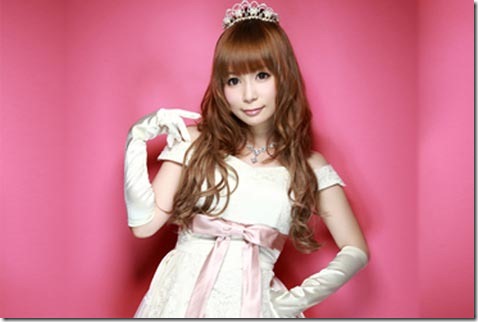 ~ Cover jackets exposed – jump ~
Shoko Nakagawa (Shokotan) has a new mini-album announced "nsum ~Nakagawa Shoko ga Utatte Mita!~" which will feature song collaborations with various popular internet and Vocaloid producers like DECO*27, sasakure.UK, and others. The release comes in two editions and will hit stores August 15th. More early details follow.
Collaborating on the mini-album with Shoko Nakagawa will be Hyadain, DECO*27, sasakure.UK, Hachioji P, and kz(livetune).  Shokotan is collaborating on DECO*27's latest release "Love Calendar" providing the vocals for song "Ama Yadori". More details on this album that is due out July 25th are available here and check out music video for this song at the bottom of this article.
On another release in July, Shokotan has teamed up with vintage rock band MAKE-UP to provide the opening theme for anime Saint Seiya Omega – "Pegasus Genso ver. Omega". Rock band MAKE-UP provided the original "Pegasus Genso" for the orginal version of the anime that aired back in 1986. More details for single "Pegasus Genso ver Omega" are here.
Mini-album "nsum ~Nakagawa Shoko ga Utatte Mita!~" comes in two editions:
– Limited with bonus DVD with music video and off-shoot footage for track "Uchou de Proposal".
– Regular CD-only
Jacket covers and possible bonuses haven't yet been announced so check back to Comtrya Sugoi for updates.
Shoko Nakagawa – "nsum ~Nakagawa Shoko ga Utatte Mita!~" – release date August 15th 2012
Limited [CD+DVD] (¥2500)


Regular [CD] (¥2000)


[CD]
1. Dream Driver
2. Tokimeki ☆ Dreamer
3. GAME
4. Discovery
5. Works x Works
6. Uchou de Proposal
[DVD]
1. Uchou de Proposal (music video)
2. Uchou de Proposal (off shoot)
3. Sorairo Days 10gen Toppa edition (live)
[CD]
1. Dream Driver
2. Tokimeki ☆ Dreamer
3. GAME
4. Discovery
5. Works x Works
6. Uchou de Proposal
Shoko Nakagawa x DECO*27 "Ama Yadori" (Taking Sweet Shelter) on DECO*27's album "Love Calendar" out July 25th 2012