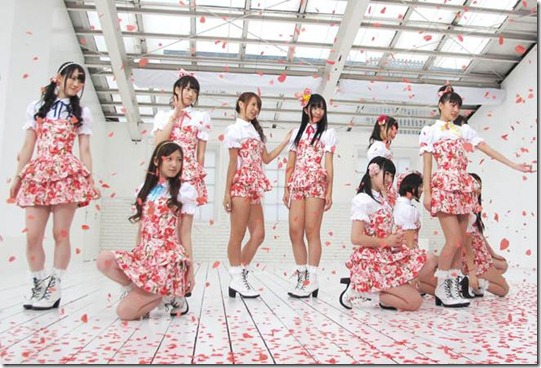 Idol unit SUPER☆GiRLS are ready to drop their newest single "1,000,000☆Smile" on April 18th. The title track is tied-in to several CM for Ito-Yokado: "Shin Seikatsu", "Haru no za Sale", and "good day by AMERICANCOLORS", and Nippon TV "Oto Ryumon". This is the unit's 4th single and all editions include coupling track "Hoshikuzu Love Song". More details on the single release and preview music video follow,
The single comes in three editions, Limited A with bonus DVD with music video for the title track and member versions of the CM message for the single (11 different), a Limited B with bonus track "MAX! Otome Gokoro", and a Limited C that adds two CD off vocal tracks. Bonus photo (1 of 12) is included in each edition. Purchasers of all three editions will have codes to enter for a lottery drawing of items used in the music video as well as access to special Real Idol training site.
First Press versions add ticket for handshake events.
Preview music video follows below release details.
SUPER☆GIRLS – "1,000,000☆Smile" – release date April 18th 2012
Limited A [CD+DVD] (¥1890)


Limited B [CD] (¥1260)


[CD]
1. 1,000,000☆Smile
2. Hoshikuzu Love Song
[DVD]
1. 1,000,000☆Smile (music video)
2. 1,000,000☆Smile (individual member CM versions)
[bonus]
Photo (1 of 12)
[CD]
1. 1,000,000☆Smile
2. Hoshikuzu Love Song
3. MAX! Otome Gokoro (Switch Vocal ver.)
[bonus]
Photo (1 of 12)
Limited C [CD] (¥1000)


[CD]
1. 1,000,000☆Smile
2. Hoshikuzu Love Song
3. 1,000,000☆Smile (off vocal)
4. Hoshikuzu Love Song (off vocal)
[bonus]
Photo (1 of 12)
SUPER☆GiRLS – 1,000,000☆Smile – release date April 18th 2012