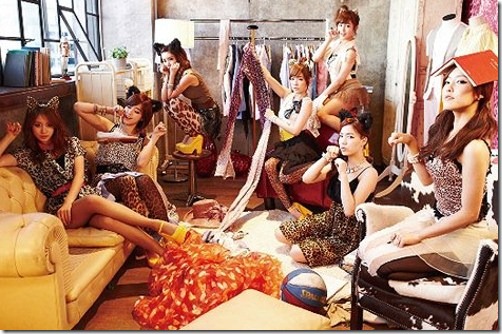 T-ARA has exposed more details on their first Japanese album "Jewelry Box" which is due out on June 6th. The album track list includes their four Japanese singles of "Bo Peep Bo Peep" (9/2011), "yayaya" (release details, 11/2011), "Roly-Poly" (release details, Feb 29th), and the upcoming "Lovey-Dovey" (release details, May 23rd), plus two original Japanese songs, plus "Cry Cry (Japanese version)", and six other Japanese version songs for a total of 13. More details follow,
The album comes in three editions, a Limited "Diamond" that adds bonuses – a live DVD of "T-ARA X'mas Premium Live" in 2011" and a 100-page photo book; a Limited "Sapphire" with bonus DVD "History of T-ARA" and a 32-page photo book; and a Regular "Pearl" CD-only.
All editions include a trading card ( 1 of 8 ) and a lottery application for special live(s) at Budokan that's part of their "T-ARA JAPAN TOUR 2012 ~Jewelry box~" concert tour. First Press editions are offered on all and give you an additional "raw photo" bonus.
T-ARA also has a music video collection "Cry Cry & Lovey-Dovey Music Video Collection" release upcoming next week on April 25th – check out release details and some teaser videos.
Cover jackets for the album haven't yet been released so please check back to Comtrya Sugoi for the updated information when announced.
T-ARA – "Jewelry Box" – release date June 6th 2012
Limited Diamond [CD+DVD] (¥6800)


Limited Sapphire [CD+DVD] (¥3600)


[CD]
1. Bo Peep Bo Peep
2. LOVE ME! ~Anata no Sei de Kurui-so~
3. Apple is A
4. Keep Out (Japanese original)
5. T.T.L. ~Time to Love~
6. Roly-Poly
7. Breaking Heart ~Watashi go Totemo Itakute~
8. Kojinmaru ~uso~
9. Ueironi
10. yayaya
11. Cry Cry
12. Lovey-Dovey
13. T-ARATiC MAGiC MUSiC (Japanese original)
[DVD]
1. T-ARA X'mas Premium Live" in 2011 (90 min)
[bonus]
Photo book 100pg
[CD]
1. Bo Peep Bo Peep
2. LOVE ME! ~Anata no Sei de Kurui-so~
3. Apple is A
4. Keep Out (Japanese original)
5. T.T.L. ~Time to Love~
6. Roly-Poly
7. Breaking Heart ~Watashi go Totemo Itakute~
8. Kojinmaru ~uso~
9. Ueironi
10. yayaya
11. Cry Cry
12. Lovey-Dovey
13. T-ARATiC MAGiC MUSiC (Japanese original)
[DVD]
1. History of T-ARA (60min)
[bonus]
Photo book 32pg
Regular Pearl [CD] (¥3000)


 
[CD]
1. Bo Peep Bo Peep
2. LOVE ME! ~Anata no Sei de Kurui-so~
3. Apple is A
4. Keep Out (Japanese original)
5. T.T.L. ~Time to Love~
6. Roly-Poly
7. Breaking Heart ~Watashi go Totemo Itakute~
8. Kojinmaru ~uso~
9. Ueironi
10. yayaya
11. Cry Cry
12. Lovey-Dovey
13. T-ARATiC MAGiC MUSiC (Japanese original)