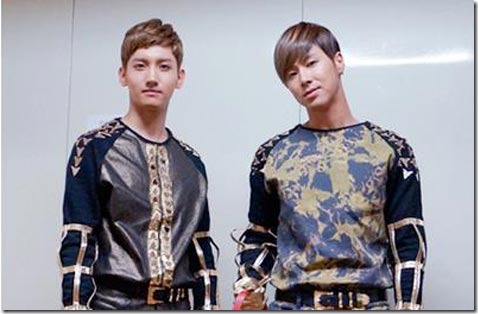 Tohoshinki (TVXQ) has released a new Korean album "CATCH ME" back on September 24th and now are getting ready to release a Japanese import Special Edition. Its their 6th full-length Korean album and 2nd since re-forming as the duo of members Yunho and Changmin. The "CATCH ME" special edition comes with bonus DVD and scheduled to hit stores in Japan on November 2nd. Read on for more release details and music videos for title track "Catch Me".
TVXQ released their new album "CATCH ME" in Japan in its two regular editions (RED & BLACK) on October 5th and saw it land in the 6th spot on the Oricon weekly album charts. Their most recent Japanese release was single "ANDROID" came out July 11th and gave Tohoshinki another #1 charting single – more details and preview music video – here.
Tohoshiniki's Special Edition of "CATCH ME" contains a bonus DVD that includes two music videos and making-of for the title track, plus interview and cover jacket photo shoot footage.
Enjoy the full music video for "Catch Me" and dance choreography practice footage after the release info..
Tohoshinki (TVXQ) – "CATCH ME" Japanese import edition – release date November 2nd 2012
Limited [CD+DVD] (¥3205)


 
[CD]
1. Catch Me
2. Viva
3. Destiny
4. Like a soap
5. I don't know
6. Dream
7. How are you
8. Getaway
9. I swear
10. Gorgeous
11. Good Night
[DVD]
1. Catch Me (music video)
2. Catch Me (dance ver.)
3. TVXQ! Special Interview
4. Cover jacket photo shoot
5. Catch Me (off shoot)