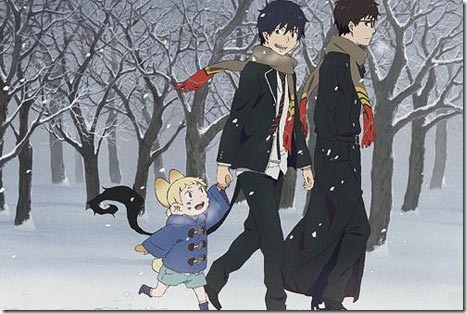 UVERworld has updated the details for their 23rd single "REVERSI" – cover jackets, track list, and bonuses have been revealed. The single has a tie-in as the theme song for upcoming anime movie Blue Exorcist. UVERworld previously was connected to the Blue Exorcist anime TV series supplying its first opening theme with song "CORE PRIDE". A live version of this song is included on all editions of the new single. Single "REVERSI" hits stores December 26th – updated details and audio preview follow.
Most recently UVERworld released their 7th album "THE ONE" that contains four of their singles including the upcoming "REVERSI". UVERworld's new album released November 28th – more details are reported here.
The Blue Exorcist movie is an original story with the characters from the manga by Kato Kazue. The movie set in the winter adds a new character boy-demon Usamaro voiced by Rie Kugimiya and Taiwanese exorcist Cheng-Long Liu voiced by Kiuchi Hidenobu (Gosick, Monster).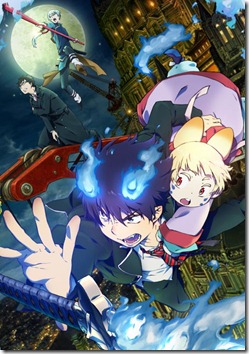 The Blue Exorcist movie premiers in Japan on December 28th 2012 – the current trailer video follows after the album release details. The anime TV series adaption aired beginning in May 2011 and ran 25 episodes – watch it over at Crunchyroll.com or hit the link for Blue Exorcist for episode list and related reports.
UVERworld fans can still see the band at the last of their "UVERworld 2012 Arena Tour" events,
– Dec 22nd Kokusai Center, Fukuoka
Fans need not despair as there are a bunch of new dates for their "UVERworld LIVE TOUR 2012~13" live events, including a special Christmas live event at the famous Nippon Budokan on December 25th 5:30pm – more tour dates below.
– Dec 25th 5:30pm Nippon Budokan, Tokyo
– Jan 24th & 25th 5:30pm Zepp Sapporo
– Jan 30th & 31st 5:30pm Zepp DiverCity, Tokyo
– Feb 6th & 7th 5:30pm Zepp Fukuoka
– Feb 12th & 13th 5:30pm Zepp Nagoya
– Feb 17th 5:30pm LOTS Niigata
– Feb 21st 5:30pm RENSA Miyagi
– Feb 25th & 26th 5:30pm Zepp Namba
– Feb 28th 5:30pm Zepp DiverCity, Tokyo
More details and ticketing information is available at the band's website (link at bottom).
Single "REVERSI" will come on three editions,
– Limited with bonus DVD that includes interview with members regarding their album – THE ONE – and more.
– Limited Pressing anime themed drawn cover jacket.
– Regular CD-only.
First Press version available on all editions adds bonus calendar-poster (sample),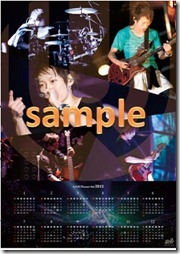 UVERworld – "REVERSI" – release date December 26th 2012
Limited [CD+DVD] (¥1529)


Limited Pressing Anime [CD] (¥1300)


[CD]
1. REVERSI
(preview)
2. Theory to no Ketsubetsu no Kenkyuu +81
3. ace of ace (live at Yokohama Arena 2012.7)
4. CORE PRIDE (live at Zepp Tokyo 2011.7)
[DVD]
1. UVERworld – talking about THE ONE
2. Barbell ~ Kotei no atarashi fuku ver. ~ (live at Yokohama Arena 2012.7)
[CD]
1. REVERSI
2. Core Pride
2. Theory to no Ketsubetsu no Kenkyuu +81
3. ace of ace (live at Yokohama Arena 2012.7)
4. CORE PRIDE (live at Zepp Tokyo 2011.7)
Regular [CD] (¥1223)


 
[CD]
1. REVERSI
2. Theory to no Ketsubetsu no Kenkyuu +81
3. ace of ace (live at Yokohama Arena 2012.7)
4. CORE PRIDE (live at Zepp Tokyo 2011.7)
 
Blue Exorcist Official website (Japanese)
Blue Exorcist Office website (English)