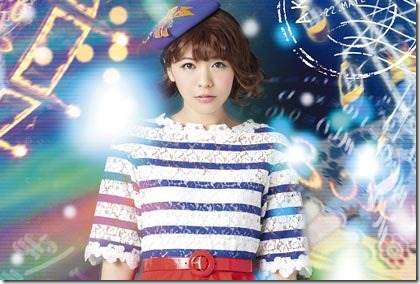 Aki Toyosaki has revealed the cover jackets and full track list for her 8th solo single "Flip Flop". The title track is featured as the theme song for game show Kizuna-taikan TV Mobile Suit Gundam Dai-07 Itakura Shotai (4th season). Aki Toyosaki is a member of the show's team that challenges other TV and anime personalities around Japan on game Mobile Suit Gundam: Senjo no Kizuna. New single "Flip Flop" is available on two editions and hits stores May 22nd 2013 – update details follow.
Popular singer/voice actress Aki Toyosaki is also a member of group Sphere which is about to release single "GENESIS ARIA" that's featured as the opening theme for anime TV series Arata Kangatari (Arata: The Legend). Sphere consists of popular voice actresses (seiyuu) Aki Toyosaki, Ayahi Takagaki, Haruka Tomatsu, and Minako Kotobuki. Their new single releases on May 1st 2013 (more details).
Aki Toyosaki released her 7th solo single "Orion to Supankoru" December 19th 2012. Fans propelled it into the 10th spot on the weekly Oricon charts.
Single "Flip Flop" comes on two editions,
– Limited with DVD planned to include music video for title track. First Press version adds poster (varies by store) and application card
– Regular CD-only. First Press version adds special packaging, poster (varies by store) and application card.
Poster (3 of 7 different shown, varies by store),
Application card for award lottery (end period May 27th),
– 10 winners live phone greeting
– 400 winners invited to talk & mini-live June 7th (200 each 6:00pm & 7:30pm) somewhere in Tokyo
– 50 winners autographed poster
– all applicants special mobile phone waiting screen
Aki Toyosaki "Flip Flop" – release date May 22nd 2013
Limited [CD+DVD] (¥1800)


Regular [CD] (¥1300)


[CD]
1. Flip Flop
2. undecided
3. undecided
4. undecided
[DVD]
1 Flip Flop (music video)
[CD]
1. Flip Flop
2. undecided
3. undecided
4. undecided
Gundam 07 Itakura Official website
Sphere Official website (Planet Sphere)