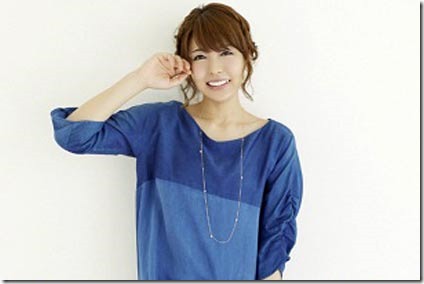 Aki Toyosaki has added more details for her 2nd album "Love letters" – full track list and new bonus details revealed. The album includes 5 singles, "Flip Flop", "Orion to Supankoru", "Shirotsumekusa", "music", new single "CHEEKY", plus new songs including "letter writer" for 13 total tracks. Album "Love letters" comes on two editions that hit stores September 25th 2013 – updated details follow…
Popular voice actress Aki Toyosaki just released her 9th single "CHEEKY" on August 28th 2013 (more details).
Aki Toyosaki is also a member of group Sphere which released single "GENESIS ARIA" (2013.05.01)(more details) with tie-in as the opening theme for anime TV series Arata Kangatari (Arata: The Legend). Sphere consists of popular voice actresses (seiyuu) Aki Toyosaki, Ayahi Takagaki, Haruka Tomatsu, and Minako Kotobuki.
In connection with her new album Aki Toyosaki has announced her 2nd solo live tour -  the Aki Toyosaki 2nd Concert Tour planned for 5 venues and 7 performances this fall. More details and ticket information available at special website (link below).
– October 20th 2013 5:00pm Tokyo International Forum Hall
– October 27th 5:00pm Kanagawa Prefectural Hall (sold out)
– November 10th 12:30pm & 4:30pm Grand Cube Osaka
– December 15th 4:30pm Century Hall Nagoya
– December 28th 3:00pm & 6:30pm Tokushima Municipal Cultural Center (sold out)
Album bonus of postcard with printed comment from Aki Toyosaki is available for purchasers at target stores while supplies last. Target stores: Tower Records, HMV, Animate Gamers, Sofmap, Toranoana.
Her 2nd album "Love letters" comes on two editions,
– Limited with DVD. Includes application flyer (undecided awards).
– Regular CD-only. First Press version includes application flyer (undecided awards).
Jacket covers and more will be updated when announced so come back to Comtrya Sugoi for the latest news.
Aki Toyosaki – "Love letters" – September 25th 2013
Limited [CD+DVD] (¥3500)


Regular [CD] (¥3000)


[CD]
1. See You Tomorrow
lyrics,music: Rie Fu

2. music (5th)
lyrics: Tsuji Ayano, composer: Mito, arrangement: Yodare
 
3. CHEEKY -clover mix- (9th)
lyrics,composer: Ando Yuko, arrangement: Yamamoto Ryuji

4. Sasurai no Mayoeru Koneko
lyrics,music: whoo 

5. Tadaima, Okaeri
lyrics: Furuya Shin, composer: Fujitani Ichiro, arrangement: Watanabe Tsuyoshi

6. Patapa
lyrics, music: Tamura Ayumi

7. LiLi A LiLi
lyrics,music: Chara

8. Shirotsumekusa (6th)
lyrics: Chiba Hana, composer: Ichikawa Kazunori, arrangement: Tsukamoto Ryo

9. Flip Flop (8th)
lyrics, music: sasakure.UK

10. Ringo no Sei
lyrics: Kudo Junko, music: Konishi Shojiro

11. Orion to Supankoru (7th)
lyrics: Furuya Shin, composer: Osawa Keiichi, arrangement: Seki Junjiro

12. true blue
lyrics: Harada Ikuko, composer: Nagatusmi Takashi, arrangement: Mito

13. letter writer
lyrics,composer: Tabuchi Tomoya, arrangement: Seki Junjiro

[DVD]
1. letter writer (music video)
2. Making of album

[CD]
1. See You Tomorrow
2. music (5th)
3. CHEEKY -clover mix- (9th)
4. Sasurai no Mayoeru Koneko
5. Tadaima, Okaeri
6. Patapa
7. LiLi A LiLi
8. Shirotsumekusa (6th)
9. Flip Flop (8th)
10. Ringo no Sei
11. Orion to Supankoru (7th)
12. true blue
13. letter writer
Sphere Official website (Planet Sphere)