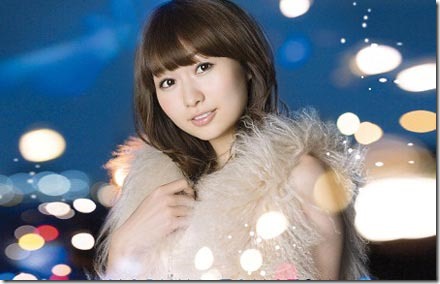 Haruka Tomatsu added more details for her new single, titled Hikari Gift, revealing the jacket covers and most of the track list. Its her 12th solo single and comes on two editions. Single Hikari Gift is scheduled for release on January 15th 2014 – more details follow…
~ updated track and more bonus details added ~
Singer and voice actress Haruka Tomatsu most recently released single PACHI PACHI PARTY on July 10th 2013 (more details). She released her 2nd album Sunny Side Story with 5 singles plus the coupling tracks and new songs for 13 total tracks. The album hit stores January 16th 2013 (more details).
Haruka Tomatsu is also one part of group Sphere along with other singer/voice actress members Aki Toyosaki, Ayahi Takagaki, and Minako Kotobuki. They released the group's 13th single Sticking Places on November 27th 2013 (more details) with tie-up as ending theme for anime TV series Yu-Sibu.
Sphere is celebrating their 5th anniversary in 2014 and announced special anniversary single, not yet titled, scheduled for release on February 26th 2014 (release details coming….). They also have upcoming 2-day special 5th anniversary live event Start Dash Meeting Ready Steady 5 Laps! in Nippon Budokan. More details and ticket information at Haruka Tomatsu's or Sphere's website (links below),
– Feb 1st 2014 4:00pm Nippon Budokan, Tokyo
– Feb 2nd 2014 3:00pm Nippon Budokan, Tokyo
Haruka Tomatsu has also been very busy this fall anime season voicing a number of key characters including Ibara Naruse (Coppelion), Morgiana (Magi – The Labyrinth of Magic), Saki Rukino (Valvrave the Liberator) and Mari Maya (Samurai Flamenco).
Her new single Hikari Gift comes on two editions,
– Limited with DVD planned to include music video for title track and more. Deluxe packaging and application flyer.
– Regular CD-only. First Press version adds deluxe packaging and application flyer (details below).
The application flyer for gift lottery (deadline to apply January 20th 2014),
– 10 persons live phone call from Haruka Tomatsu.
– 400 persons mini-live and talk release event (Feb. 6th 2014, Tokyo).
– 50 persons autographed Hikari Gift poster.
– all who apply receive special mobile phone wait tone.
Selected stores offer bonus photo on purchases of either edition (while supplies last),
Haruka Tomatsu – Hikari Gift – release date January 15th 2014
Limited [CD+DVD] (¥1800)


Regular [CD] (¥1300)


[CD]
1. Hikari Gift
2. Get you!!
3. Hikari Gift (off vocal)
[DVD]
1. Hikari Gift (music video)
2. TV CM spots
[CD]
1. Hikari Gift
2. Get you!!
3. Hikari Gift (off vocal)
*updated track and photo bonus (2013.12.26)
**updated awards lottery (2013.12.28)
Haruka Tomatsu Official website